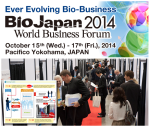 BioJapan 2014 World Business Forum
Date: Oct 15(Wed)–17(Fri), 2014
Time: 10:00am-17:00pm (8:30- Partnering)
Venue: Pacifico Yokohama, Japan
Organizer: BioJapan Organizing Committee
Contact: Tel +81-3-3219-3565 / Fax +81-3-3219-3628
E-mail: biojapan@ics-inc.co.jp
Official Website: www.ics-expo.jp/biojapan/
Asia's Premier Partnering Event for the Global Biotechnology Industry
BioJapan has played an important role in facilitating interaction between Japanese and global companies/organizations and stimulating new business opportunities. The Japanese and global biotechnology industry's top business development and licensing professionals, alliance management professionals, R&D personnel and biotech company executives will gather in Yokohama for the 16th BioJapan.

Exhibitor:
Drug and drug discovery
Small-molecule drug, biologics, and vaccine
Drug delivery system (DDS)
Pharmaceutical ingredients
Drug Discovery support and contract services
Drug synthesis services
Analysis contract services
Chemical compound libraries and screening
Contract services for raising laboratory animals and conducting animal testing
Contract manufacturing organizations (CMOs)
Contract research organizations (CROs)
Site management organizations (SMOs)
Corporate research support software and laboratory information systems
Medical treatment, diagnostics, and medical devices and equipments
Gene therapy
Regenerative medicine encompassing cells, culture solutions, culture mediums, reagents, etc.
Immunotherapy
Genetic testing
Diagnostic imaging
Biomarkers
Medical devices
Micro-chemicals for micro total analysis systems (TAS), biochips, biosensors, etc.
Food, agriculture, forestry, fisheries, and livestock raising
Functional food and food ingredients
Food additives and food-use enzymes
Food testing
Breed improvement
Incubation, cultivation, and preservation
Veterinary medicine and vaccine
Chemical products and cosmetics
Biorefinery
Cosmetics including raw materials and finished products
Chemical products including raw materials and finished products
Environment and energy
Biomaterials and bioenergy
Biomass plastics
Environmental restoration, waste processing and recycling
Environmental testing
Research devices, reagents, disposables and facilities
Research devices
Bioinformatics
Bioimaging
Research-use reagents including chemicals, nucleic acids, proteins, and antibodies
Research-use disposables including chips, plates, columns, and membranes
Contract services for raising laboratory animals
Equipment, facilities, and factories
Universities and institutes
Technology licensing organizations (TLOs)
Collaborative projects between industry and academia
Intellectual property, legal, and financial services
Patent offices and services covering patents and intellectual property
Law firms and legal services
Venture capital and institutional investors
Stock exchanges and securities companies
Accounting firms
Bio-clusters, government and public support
Support for corporate R&D and researchers
Assistance in localizing and attracting industry
Assistance in entering foreign markets
Other services
Temporary staff services
Transport, international delivery, and storage services
Consulting on technology, manufacturing, management, financial and other areas