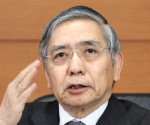 Positive demand trends keep Kuroda bullish on economy
Date: Nov 20, 2015
Source: Nikkei Asian Review
TOKYO — Bank of Japan Gov. Haruhiko Kuroda remained optimistic about Japan's economy and inflation prospects at a post-policy-meeting news conference Thursday, pointing to significant improvement in consumer spending and exports.
Solid demand
Real gross domestic product shrank for a second straight quarter in the July-September period, contracting an annualized 0.8%, government data released Monday showed. Kuroda argued that this is in line with the central bank's assessment of a gradual recovery.
The governor called declining inventory investment the main reason for the GDP drop. With inventory adjustment progressing and final demand strong, the situation "looks very different from the April-June period," when GDP also shrank, he said. He noted that consumer spending has been resilient and exports have been recovering since September.
The economic impact of the terrorist attacks in Paris is "limited" for now, the governor said, pointing out that European markets have remained calm. However, he added, "we can't rule out the possibility that tourism or the Christmas shopping season will be affected." The central bank is watching for risks to the Japanese or global economy, either psychologically or via financial markets, he said.
A U.S. interest rate hike, which looks increasingly likely to happen in December, "comes against the backdrop of the strength of the U.S. economic recovery and is desirable for the Japanese economy as well," Kuroda said. He expects the pace of tightening to be "extremely gradual" and suggested that he sees little risk of a blow to the global economy.