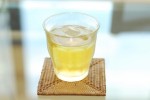 Green Tea May Prevent Alzheimer's Disease, Say Four New Studies
Date: June 30, 2013
Source: Melanie Haiken
Could something as simple as drinking green tea protect you from developing Alzheimer's? A host of new studies have looked at various aspects of how green tea affects the brain, and concluded yes.

Writing in the University of Michigan's NeuroHealth blog last week, prominent neurologist Henry L. Paulson, MD describes the powerful properties of ECGC (official name: epigallocatechin-3-gallate), a flavonoid in green tea. ECGC, Paulson says, appears to protect the brain from the accumulation of amyloid plaques that scientists believe cause the brain deterioration associated with Alzheimer's Disease.
Paulson describes new research published in the Proceedings of the National Academy of Sciences by Chinese scientist Mi Hee Lim and her team that shows ECGC binds to beta-amyloid, the protein that forms into amyloid plaques, and changes it to prevent that from happening.
In a closely timed and related study published in the Journal of Biological Chemistry, A team of British researchers at the University of Leeds added green tea extract and resveratrol, an extract from red wine (See my recent reporting on resveratrol and weight loss here), to balls of amyloid protein and found that the bioflavonoids prevented the plaques from sticking to nerve cells.
All of this research, and more, is described in the June 2013 issue of the Tufts University Health & Nutrition Letter, which appeared in my in-box recently. In a fascinating article titled Green Tea Protects Brain Cells, the editors describe four new studies showing that "green tea may someday be a potent weapon in the fight against Alzheimer's disease and other forms of dementia."
To my mind, the most interesting study of those described was published last August in the European Journal of Clinical Nutrition. Unlike most of the current crop of green tea studies, this one was done in humans, albeit just 12 of them. (And it was double blinded and placebo-controlled.) Most importantly, it's the first study to use MRI technology to actually look at people's brains to see the effect ECGC might have.
---
Please check the green tea products