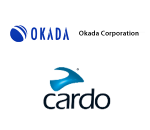 CARDO and OKADA Partner to Bring New Line of Motorcycle Communicators to the Japanese Market
Date: Jan 8, 2018
Source: Cardo Systems
TOKYO and TEL AVIV, Israel – CARDO SYSTEMS, Ltd., the global market leader in wireless communication systems for motorcycle riders, and OKADA CORPORATION, the leading Japanese distributor of motorcycle accessories in Japan, announced today a partnership to bring Cardo's latest generation of motorcycle communicators to Japanese riders – starting March 1st, 2018. The two companies have signed a mutually exclusive agreement under which Okada will distribute and market Cardo's products in Japan.
Okada Corp., Japan's largest wholesale distributor of aftermarket parts and accessories for the motorcycle market, serves a network of thousands of retail dealers located throughout Japan. Okada will carry the entire range of Cardo's communicators and accessories and make them available to the Japanese motorcycle community, starting in March 2018.
Okada will also offer Cardo's market-leading Dynamic Mesh (DMC©) communicators that provide true and uninterrupted group-communication among up to 15 riders. Powered by Cardo's unique DMC technology, and operated by natural voice, Japanese riders will – for the first time – be able to operate state-of-the-art motorcycle communicators completely hands-free, without touching a single button.
Executives of both companies characterized their new alliance as an important moment for the Japanese riding community. Ken Hongyo, CEO of Okada remarked: "Best-of-class reliability, innovation and safety are what our customers expect from our product offerings and these were the main criteria that led us to select Cardo as our exclusive supplier of motorcycle communication systems."
Abraham Glezerman, CEO of Cardo added: "We are excited about this cooperation with Okada, Japan's most respected distributor in the motorcycle market. Japan is among the most important markets and I am confident that this strategic partnership will bring immense benefits for Japan's motorcycle community."
About Cardo
Cardo Systems, Ltd., headquartered in Israel, has pioneered the development and introduction of Bluetooth headsets for motorcycle riders since 2005 and has been reinventing the market ever since with the introduction of game-changing innovations such as long-range intercom in 2011, Mesh communications in 2015 and Natural Voice Operation in 2017 and many more . Cardo is the industry's market leader and sells its products to avid motorcyclists in over 85 countries.