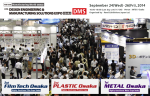 17th Design Engineering & Manufacturing Solutions Expo Osaka (DMS Osaka)
Date: Sep 24(Wed) – 26(Fri), 2014
Time: 10:00 – 18:00 (Last day until 17:00)
Venue: INTEX Osaka
Organizer: Reed Exhibitions Japan Ltd.
Official Website: www.dms-kansai.jp/en/
Design Engineering & Manufacturing Solutions Expo Osaka (DMS Osaka) is Western Japan's largest exhibition gathering all kinds of IT solutions such as CAD, CAE, ERP, production systems. DMS Osaka attracts a significant number of professionals from design, development, production engineering, and information systems departments, who are looking to buy solutions for their businesses.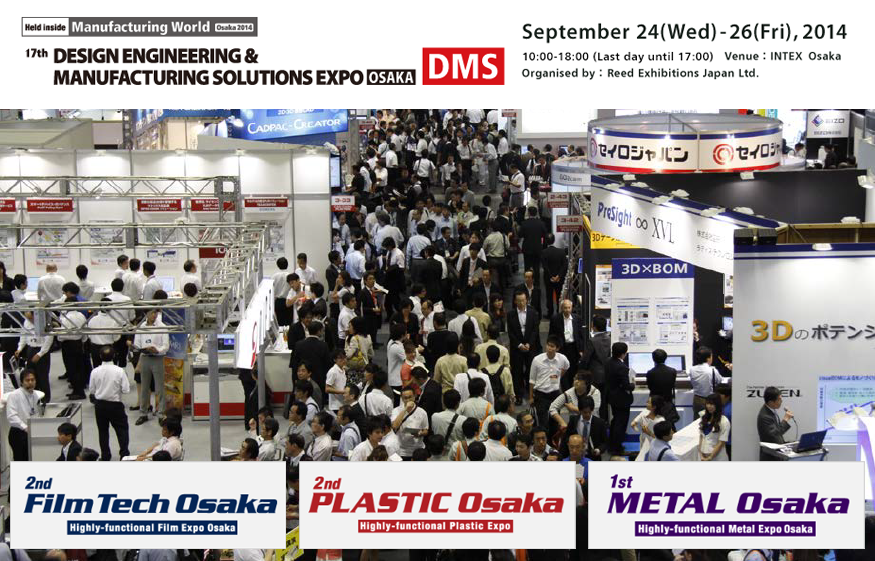 Exhibit Profile:
Drawing/Document Management Zone:


Management Systems, Security Systems, Electronic Content Management Tools/Services, Tracking Systems, Scanners, Microfilm Related Tools/Services

CAD/CAM & PLM/PDM Zone:


CAD, CAM/Processing Simulation, PLM/PDM, BOM Management Systems, Knowledge Management, Viewers/Data Conversion Tools, Digital Mockup Tools, Virtual Manufacturing, Plotters/Printers

CAE Zone:


Structural Analysis, Thermal & Fluid Analysis, Electromagnetic Simulation
Molding Simulation, Shock Analysis, Plastic Flow Analysis, Press Forming Simulation, Analysis/Simulation Outsourcing Services

SCM/ERP/Production Management System Zone:


SCM/ERP, Production Management Systems, Scheduling Systems, Production Preparation Systems, Inventory Management Systems, Process Control Systems, Man Power Planning Systems, FA Controlmanagement Systems

Technology Transfer/Engineer Training Zone:


Video Manual Services, Document Manual Services, E-Learning Systems, Document Translation Services

3D Measurement Zone:


3D Measuring Machines, 3D Digitizers, Measurement Services/Outsourcing, Other Related Products/Services

Rapid Prototyping/3D Printers Zone:


Various Modeling Devices, 3D Printers, Outsourcing Services/Service Bureau
RP Related Software, Materials for RP, Other Related Devices/Services

Design & Manufacturing Outsourcing Zone:


Temporary Staffing Services, Design Outsourcing, Manufacturing Outsourcing, Analysis/Evaluation Outsourcing, Testing/Die-Making Outsourcing, Other Related Services

Energy Saving/CO2 Reduction Zone [Plant/Facility]:


Energy Monitoring Systems, Cogeneration Systems, Eco Power Generator/Systems, High Efficiency Lighting, Energy Saving Air Conditioning, Other Related Services
Visitor Profile:
Design/Development Dept.
Manufacturing Dept.
Production Engineering Dept.
Production Management Dept.
Information System Dept.
Quality Control Dept.
R&D Dept.
Management Planning Dept.
Plant/Facility Management Dept.
Intellectual Property Management Dept.
Procurement Dept.
Human Resources Dept.
Concurrent Event: 17th Mechanical Components & Materials Technology Expo Osaka
Western Japan's largest exhibition focusing on mechanical components & fabrication technology!
Concurrent Event: Highly-functional Material World Osaka 2014
2nd PLASTIC Osaka – Highly-functional Plastic Expo Osaka


FilmTech Osaka is a specialised exhibition for all kinds of film-related technologies, gathering highly-functional film forming and processing technologies, as well as completed film products.

2nd FilmTech Osaka – Highly-functional Film Expo Osaka


PLASTIC Osaka is a specialised exhibition for all kinds of technologies and equipment related to highly-functional plastic.

1st METAL Osaka – Highly-functional Metal Expo Osaka


Newly launched show in Osaka, September 2014! METAL Osaka is a specialised exhibition for highly-functional metal. All kinds of metal-related technologies, equipment as well as metal materials (highly-functional alloy, rare metal, etc.) will be exhibiting.