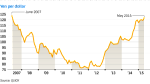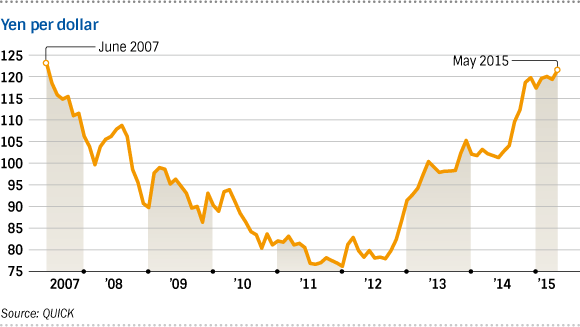 Dollar climbs to high of nearly eight years against yen
Date: May 26, 2015
Source: Nikkei Asian Review
TOKYO (Dow Jones) — The dollar hit its highest level in nearly eight years against the yen Tuesday, as investors coming back from a three-day weekend in Europe poured money into the greenback.
Recent comments by Federal Reserve officials and brighter economic data appear to have strengthened expectations of an earlier rate increase in the U.S., long before central banks in Japan and Europe take action to normalize policy.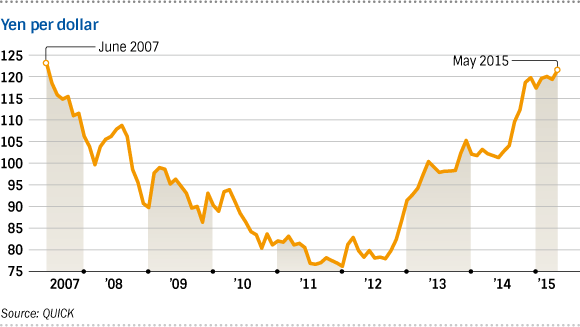 The U.S. currency surged through the 122 yen mark after a largely quiet trading session in Asia, hitting 122.70 yen, its highest since July 10, 2007, before slightly weakening to around 122.62 yen. Those levels compared with 121.57 yen late Monday in North America.
Fed Chairwoman Janet Yellen said Friday that it would be "appropriate at some point this year to take the initial step to raise the federal-funds rate target and begin the process of normalizing monetary policy."
The comment helped strengthen expectations that the Fed will act sooner to raise short-term interest rates for the first time since 2006, dispelling some of the skepticism had gripped the market following a soft patch for the U.S. economy in the January-March quarter.
Recent economic indicators, such as housing data out last week, have also generated more optimism about the U.S. recovery.
In another comment that strengthened expectations of a further divergence in monetary policy between the U.S. and other major economies, Fed Vice Chairman Stanley Fischer said Monday that the central bank expected to follow a "gradual and relatively slow" trajectory of short-term interest-rate increases over the next three to four years to bring borrowing costs back to "normal" levels.