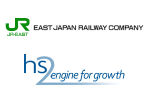 HS2 appoints JR East as a consultant
Date: Apr 03, 2014
Source: by Kevin Smith – International Railway Journal
EAST Japan Railway (JR East) has confirmed that it has been appointed as a consultant by Britain's HS2 (High Speed Two), the company overseeing the project to construct a 531km Y-shaped high-speed network from London to central and northern England.

Drawing on its experience of operating part of Japan's Shinkansen network, JR East will advise HS2 on matters including reliability, safety and punctuality ahead of construction on the project, which is due to commence in 2017. This work will cover both technical and management issues, including station management, noise counter measures and construction issues.
"[HS2] is the largest and most complex infrastructure project ever in Britain so it is essential we explore the best ways in which we can learn from international experience," says Professor Andrew McNaughton, HS2 technical director. "We are very pleased to be working with one of the world's great experts."
The contract between the two companies was signed on January 31, and to coincide with confirmation of the agreement, JR East says that it will open a London office later this month. The company says the office will expose it to more business opportunities and make it easier for the company to support its clients and partners, including European-based suppliers.
---
Please check rail companies
---