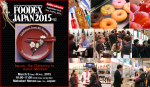 FOODEX JAPAN 2015
Dates: Mar 3 (Tue) – 6 (Fri), 2015
Hours: 10:00-18:00 (Last day until 16:30)
Venue: Makuhari Messe (Halls 1-8), Japan
Organiser: Japan Management Association
Official Site: www.jma.or.jp/foodex/
TEL: +81-(0)3-3434-1391
FAX: +81-(0)3-3434-8076
E-mail: foodexinternational@convention.jma.or.jp
Contact Form: www3.jma.or.jp/fx/inq/fx_inq_en.php
The 40th International Food and Beverage Exhibition
FOODEX JAPAN is the largest annual food and beverage tradeshow in Asia and has been a highly successful trade event since its debut in 1976 serving not only Japan's $700 billion food market but many lucrative Asian markets. Over 75,700 professional visitors attended FOODEX 2014, including over 8,000 from Korea, Taiwan, China, Thailand, and Hong Kong.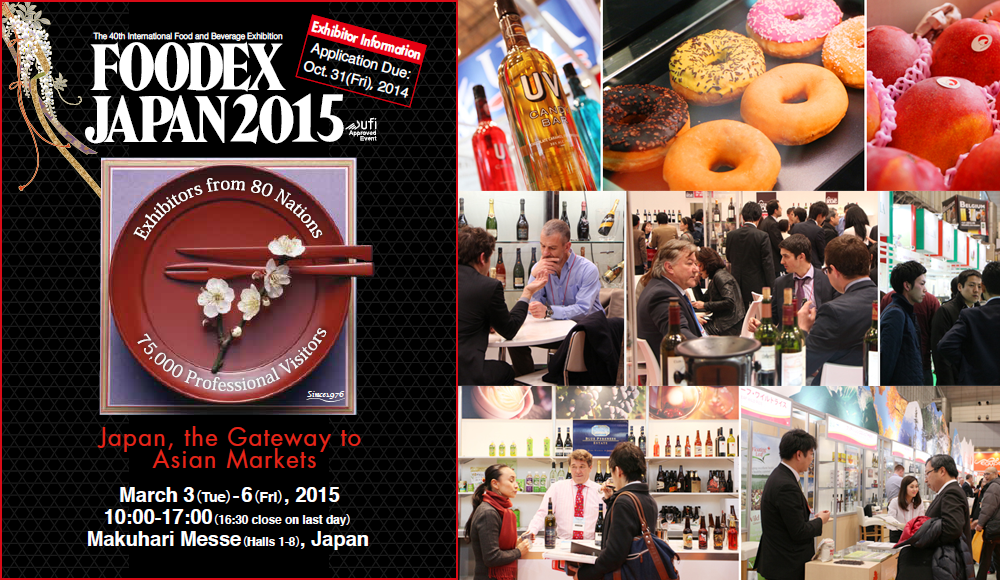 "FOODEX allows direct contact with potential buyers and provides for the relationship building that is so critical to doing business in Asia. The show is professionally run and attracts the broadest range of potential customers in Asia, from the Japanese Importer/Distributor Trade to Buyers from Korea, Taiwan and beyond." – Steve Shnitzler, Director, ATO Tokyo
Why should you exhibit at FOODEX JAPAN 2015?
No other show in Asia attracts as many overseas buyers – With more than 15% coming from Korea, Taiwan, China and other Asian countries, Japan is a trendsetter for the region.
No other show in Tokyo can boast of targeting so many of the essential Japanese food importers – Thanks to a favorable exchange, Japan currently imports close to $63 billion in agricultural products annually, with the U.S. holding a 27% market share.
70,000 professional buyers interested in the latest food industry trends – FOODEX provides unparalleled access to the entire Japanese market with 38% of visitors from Retail/Wholesale sectors and 24% from Foodservice.
Last Year's Number of Exhibitors
2,808 exhibitors / 3,480 booths / from 78 Countries & Regions
Japanese Exhibition Zone: 1,046 exhibitors / 1,244 booths 9,069 square meter
International Exhibition Zone: 1,762exhibitors / 2,236 booths 20,124 square meter
Exhibits
Food:
Agricultural Products, Breads and Cereals, Confectionery, Dairy Products, Delicatessen, Dietetic Products, Eggs and Poultry, Frozen Food Products, Fruits and Vegetables, Herbs and Spices, Ingredients, Meat and Meat Products, Food Oils, Organic Products, Seafood, Seasonings and Condiments, Soup Stock
Beverage:
Beer, Brandy, Liqueurs, Spirits, Whiskey, Wine, Coffee and Tea, Fruit Juice, Mineral Water, Soft Drinks
Other:
Transportation Services, Books, Magazines, Newspapers