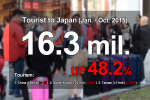 Japan Likely to Hit 2020 Tourism Goal Early, Thanks to Chinese Visitors – In the first 10 months of the year, 16.3 million foreign tourists have visited, beating prior full-year record
Date: Nov 18, 2015
Source: The Wall Street Journal by Jun Hongo
TOKYO — Chinese tourists have pushed Japan within reach of its ambitious tourism target—five years ahead of schedule.
Japan has attracted 16.3 million foreign tourists already this year, beating its previous full-year record of 13.4 million as the number of Chinese visitors has more than doubled, according to data released Wednesday by the Japan National Tourism Organization.
Prime Minister Shinzo Abe has made tourism a key element of his economic program, setting a target of 20 million visitors by 2020, the year Tokyo hosts the Olympic Games.
Japan joins countries such as Australia, Thailand and Sri Lanka in attracting record numbers of tourists from among China's rapidly expanding middle class.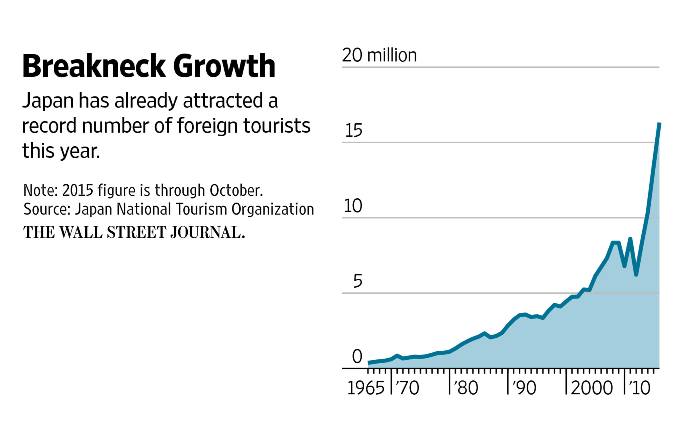 And in Japan they are driving tourism spending to record levels. Chinese tourists accounted for nearly half of the ¥1 trillion ($8.1 billion) that foreign visitors spent in the country from July through September, the Japan Tourism Agency said last month. That total was up 82% from the same period last year, the agency said.
The stock-market collapse in China this summer hit the country's middle class, raising concerns in tourism destinations about whether Chinese would continue to travel and spend at the same rates. Because trips are booked well in advance, it may be too soon to draw conclusions about the near-term impact of the market collapse and China's slowing economy.
In the longer term, though, the number of Chinese traveling overseas will continue to rise dramatically, according to a recent report from consulting firms Fung Business Intelligence Center and China Luxury Advisors.