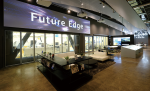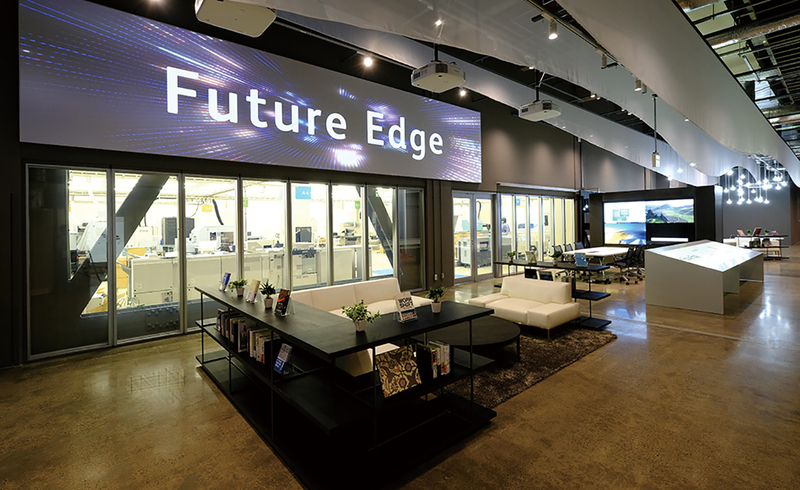 Fuji Xerox Unveils Open Innovation Hub "Future Edge" to Transform Communication Businesses Utilizing Printing Technologies
Date: May 30, 2018
Source: Fuji Xerox Co., Ltd.
TOKYO, May 30, 2018 – Aiming to come to the forefront of its efforts to pioneer a future of communication business from a global perspective, Fuji Xerox Co., Ltd. announces that it has today unveiled a hub for open innovation in Ebina city, Kanagawa, Japan. The Company will work together with its customers on transforming communications utilizing printing technologies.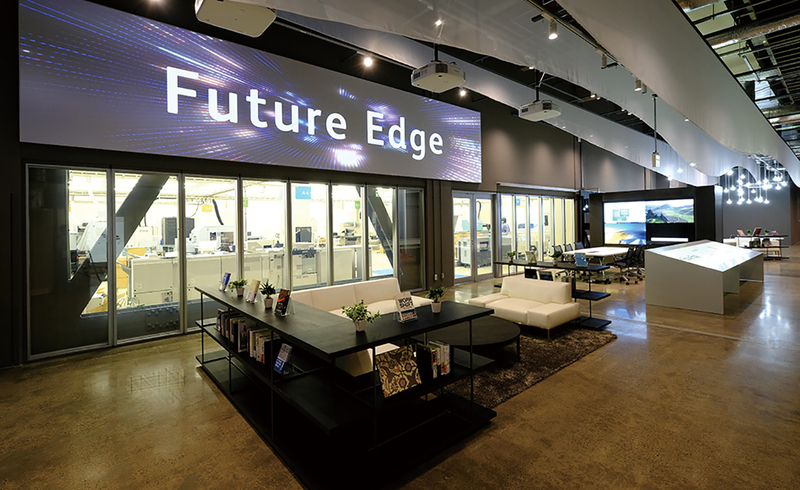 Located in the Ebina Center, this facility, dubbed Future Edge, will also devote to demonstrate enhancing productivity of print operations and the fruits of work-style reforms. Future Edge will serve as the hub in cooperating with other Fuji Xerox facilities inside and outside Japan as in the hub-and-spoke structure.
Upholding its new value proposition strategy Smart Work Innovation, Fuji Xerox provides three values: Liberate from Restraints, Open Professional Expertise, and Transform to Creative Work-style. Future Edge is a place that embodies these values in the field of print communication, instead of being just a showroom displaying devices and related software.
With advanced technologies such as the Internet of Things (IoT), artificial intelligence (AI), and robotic process automation (RPA), Future Edge will also aim to demonstrate how these technologies can contribute to enhancing the productivity of print operations and reforming workstyles by enabling people to grasp the state of print jobs remotely and automating workflows that have so far required human labor.
With approximately 7,000 square meters of space, this facility has the entire lineup of Fuji Xerox production printers, related software / services, as well as FUJIFILM Corporation's inkjet digital press Jet Press 720S and print workflow system FUJIFILM WORKFLOW XMF under one roof, to maximize the business synergy of the Fujifilm Group. The facility will also further accelerate collaboration with partners and innovators both in Japan and abroad, to continue introducing cutting-edge systems and expertise. By locating inside the Ebina Center, a base for Fuji Xerox's technology development, the facility allows not only sales personnel and systems engineers, but also development engineers, manufacturing personnel and Fuji Xerox's partners to work directly with customers to address challenges and verifications.
To create more added value upon the print value chain, Fuji Xerox believes that under the concept of Smile Curve, it is important to connect all processes seamlessly, from upstream creative and printing processes to downstream tail-end and delivery processes.
Main components of Future Edge
Future Edge comprises the Smile Garden—a place to offer experience with, and verify, communication-related ideas and systems—, and the Smart Factory—a place to clarify various needs for digital printing deriving from such ideas and systems and demonstrate seamless processing and delivery.
[Smile Garden]
The Smile Garden is a place to consider ways of communication in a community of diverse people and explore desirable business models together with customers. With constantly upgraded systems useful for establishing better communications based on a wide variety of applications and cloud services, this section aims to develop hypotheses about new business models together with customers by holding workshops featuring hands-on experiences. In addition, open innovation events will be held here to find business seeds leading to technological innovations by recruiting participants from the outside to brainstorm ideas.
[Smart Factory]
The Smart Factory offers experience with, and demonstrates, productivity reforms in a future printing factory. Productivity can be enhanced by visualizing the entire print workflow with the latest technologies, utilizing various digital presses and post-print processing systems installed here. Digital contents created at the Smile Garden are sent to the Smart Factory—which represents the production process on the Smile Curve—to produce and process printed matters per various uses. The Smart Factory aims to build a system for delivering completed products to people who need them on time to the right place in the right form. To that end, Fuji Xerox and Fujifilm collaborate to provide an integrated printing workflow consisting of digital and offset printing for seamless workflow straight from upstream to downstream processes.
The increasingly diversifying preferences and values of people due to changes in the social environment and globalization require more diverse communication means. To make agile and flexible digital printing prove its usefulness in a more definitive manner, it is necessary to create a system that reflects the diversity of values by adapting to advanced multi-item, small-lot production. Future Edge will engage in communication business transformation in the entire print value chain, from upstream processes in which communication contents are produced via production processes, to downstream processes in which contents are delivered on time to the right place in the right form.
As a pioneer in the field of graphic communicationsNote, Fuji Xerox together with Fujifilm, customers and partners will endeavor to open up the future of multifaceted communication, and will contribute to the promotion of better mutual understanding in a digital society and the enhancement of customers' business competitiveness.
Note: Printing services that encompass not only upstream planning and creative processes, but also automation systems and timely delivery of printed material to the right place at the right time.
Location of Future Edge:
Ebina Center, Fuji Xerox Co., Ltd.
2274 Hongou, Ebina-shi, Kanagawa 243-0494, Japan