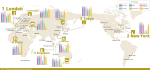 London, New York and Tokyo Remain the World's Most Attractive Cities
Date: Oct 12, 2017
Source: Mori Memorial Foundation
44 of the world's cities ranked in The Mori Memorial Foundation's GPCI 2017 Report
TOKYO – London, New York, and Tokyo were again named as the most comprehensively attractive cities in the Global Power City Index (GPCI) 2017 report published today by The Mori Memorial Foundation's Institute for Urban Strategies, a research institute established by Mori Building, a leading urban developer in Tokyo. First released in 2008, the annual GPCI report evaluates and ranks 44 major cities according to their "magnetism," or their overall power to attract creative individuals and enterprises from around the world. Cities are rated on the basis of 70 detailed indicators in six categories: "Economy", "R&D", "Cultural Interaction", "Livability", "Environment", and "Accessibility".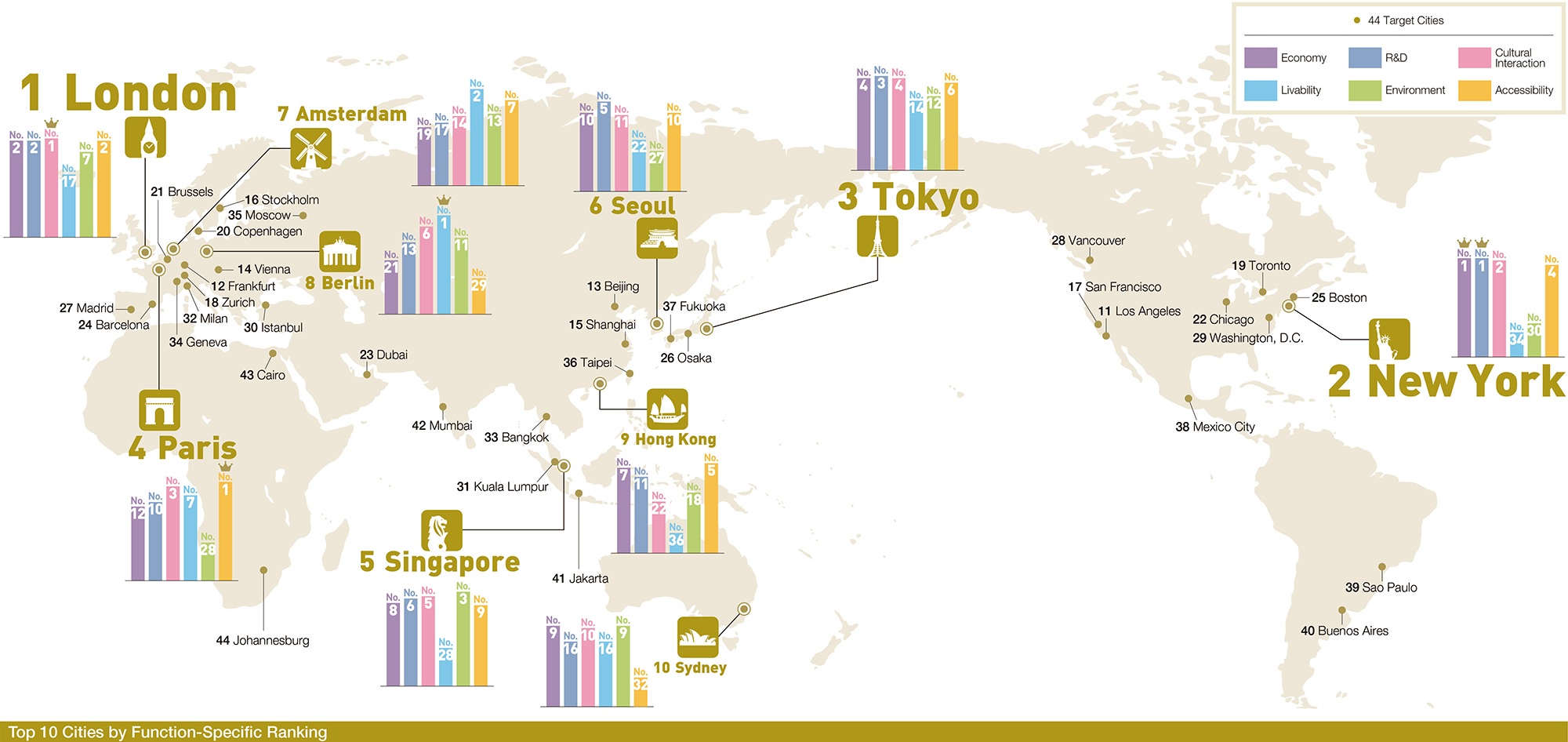 Target Cities
This year, the top three cities – London, New York and Tokyo – all retained their slots, with London maintaining its No. 1 position for the sixth year running. Tokyo, which claimed the No. 3 position for the first time last year, further improved its scores in the field of "Cultural Interaction", closing the gap on second-placed New York. Paris experienced a significant decline in its ranking in the "Livability" category, due largely to the recent terrorist attacks, but the host city of the 2024 Olympic and Paralympic Games is expected to rise above the competition in the coming years by further strengthening its "Accessibility" scores and recovering its "Cultural Interaction" ratings.
Overall, European cities scored highly on "Livability" and "Environment", maintaining their reputations as the world's most livable cities, while U.S. cities maintained their high scores in the areas of "R&D", underscoring the attraction of these cities for researchers and innovators. Seven Asian cities, topped by Beijing, Tokyo, Shanghai and Hong Kong, featured in the top 10 in the "Economy" category, followed by Dubai, which featured for the first time in this year's report and achieved strong ratings for its corporate tax rates, ranking No.11 in that indicator category.
Commented Hiroo Ichikawa, Executive Director of The Mori Memorial Foundation, "In the last 10 years, the report has shown that the power of cities has been changing as a result of changes in the macro environment. Our report suggests that a city's overall power cannot be determined by a single factor, such as economy, but needs to take into account the many factors that define the city. Rapid urbanization and globalization pose both challenges and opportunities for cities, so for cities to thrive, they need to accurately assess their specific strengths and weaknesses, as well as their relative positioning against other cities. We believe that our GPCI report can help policy makers and global companies achieve smarter planning and decision-making in their efforts to thrive in today's highly competitive global environment."
Key Highlights
London's core strengths lay in the category of "Cultural Interaction", which helped the city keep its No.1 position overall for the tenth consecutive year. London continued to maximize its overall strengths by improved scores in the indicators of GDP Growth Rate and Level of Political, Economic and Business Risk. While there remains some uncertainty surrounding the U.K.'s exit from the EU, London's balanced strengths across several categories mean the city has the potential to turn challenges into opportunities, extending its commanding lead and continuing forward as the top-ranked city in which to live and work.
New York, in second place overall, increased its scores in the "Economy" category due to improvements in its Nominal GDP and GDP Growth Rate, but failed to make any significant headway in its overall score, owing to weaker showings this year in the category of "Cultural Interaction".
Tokyo maintained its No.3 position and further closed the gap on New York, largely due to improved "Cultural Interaction" indicators, in particular the Number of Visitors from Abroad. Tokyo also further improved its scores in the field of "Accessibility", due largely to an increase in the number of direct flight connections between Tokyo and overseas cities.
Dubai and Buenos Aires made their first-ever appearances in the GPCI in 2017 with respective overall rankings of 23rd and 40th. Dubai posted strengths in "Cultural Interaction" (9th) and the "Economy" (11th), thanks mainly to strong evaluations in the area of Number of Luxury Hotel Guest Rooms and Corporate Tax Rates.
In other parts of the world, Sydney climbed four spots this year to edge its way into the top 10 for the first time in seven years. Cities such as Los Angeles (in 11th position overall), Beijing (13th), San Francisco (17th), Amsterdam (7th), Berlin (8th) and Frankfurt (12th) all significantly improved their rankings from last year, as did Vienna (14th), Stockholm (16th), Zurich (18th) and Copenhagen (20th).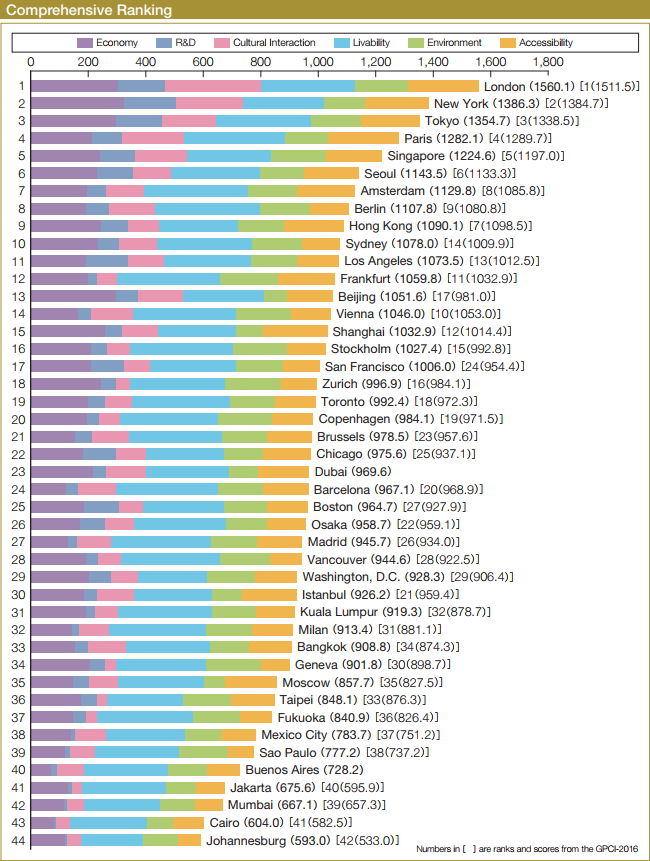 Comprehensive Ranking
Contacts
Media Inquiries
Weber Shandwick
Rutsuko Nakajima, +81 (0)90 9006 5841
Masashi Nonaka, +81 (0)80 1037 7879
moribldg@webershandwick.com