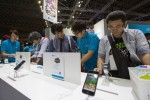 Google Helps Japanese Game Makers Expand Overseas – Nation of Gaming Fans Hope to Bring Domestic Hits to New Audiences
Date: Sep 18, 2014
Source: The Wall Street Journal – By ERIC PFANNER And MAYUMI NEGISHI
CHIBA, Japan—Japanese game developers have built a $6 billion industry, the world's largest, by helping the nation's mobile-phone users pass time during breaks or on the subway with such local hits as "White Cat Project" and "Monster Strike".
But the games are little known outside of this island nation. Executives of Japanese game developers hope to change that by joining with Google Inc. to bring their games to the rest of the world.
We make more money when they make more money, so our interests are very closely aligned," said Chris Yerga, Asian-Pacific region head of Google Play, the search engine company's mobile application store.
The Mountain View, Calif., company is providing technical and marketing support to the Japanese developers, he said in an interview on the sidelines of the Tokyo Game Show, a showcase for Japan's latest shoot-'em-up, fantasy and puzzle games.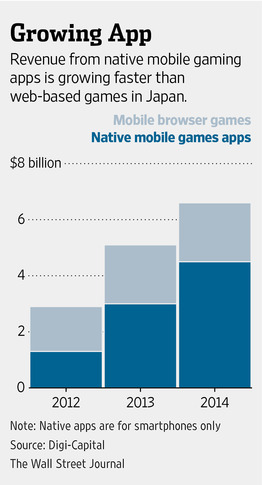 Japanese game developers enjoyed a wide international following in the days when game consoles dominated, but they are struggling to go abroad in the mobile era. One reason is the belated adoption of smartphones in Japan. For a long time, Japanese consumers relied on so-called feature phones that permitted simple games to be played via mobile browsers.
To distribute feature-phone games, Japanese companies like Gree Inc. and DeNA Co. developed their own platforms, which they sought to extend into other markets mostly without success. Instead, mobile game players outside Japan turned to app stores, including Google Play and Apple Inc.'s online store, to download games.
Japanese consumers belatedly caught up, and Japan is now Google Play's biggest market by revenue. Google Play takes a 30% share of revenue of sales from games and add-ons. It still trails Apple's better- known App Store in revenue, so generating more sales from Japanese games would help the company catch up.
"Japan is a huge market for Google Play, but it has been very local," said Bertrand Schmitt, chief executive of App Annie, a research firm. "The Japanese superstars have been mostly stuck in Japan. It makes sense for both to push outside."
Digi-Capital, a consulting firm specializing in mobile games, estimates that Japanese mobile game revenue will rise to $6.6 billion this year from $5.1 billion in 2013, with about two-thirds of that coming from smartphone apps.