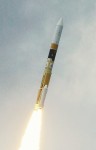 H-3 rocket to be developed
Date:May 18, 2013
Source: The Yomiuri Shimbun
Japanese government panel on space policy tentatively agreed on Friday to start developing a large, next-generation rocket next fiscal year, aiming to shift the design and development of the new device to private companies to reduce costs.

The special committee under the Cabinet Office is considering conducting the rocket's maiden launch in fiscal 2020. The panel intends to make a final decision on the matter by the end of this month.
The latest innovation will be the first large-scale rocket developed in Japan in 18 years since work on the H-2A model began in 1996. Panel members mostly agreed that preliminary research and development costs would be covered by the state and the ensuing steps related to design, development, production and launch would be handled by the private sector.
Currently, the Japan Aerospace Exploration Agency and Mitsubishi Heavy Industries Ltd. are drawing up plans to develop what they are tentatively calling the H-3 rocket.
They envision a rocket that can launch satellites of different sizes by allowing multiple combinations of parts, such as liquid-fuel engines and a solid-fuel auxiliary booster, which could be changed out to alter the size of the rocket's body. They are also trying to cut costs by incorporating the same parts used in small solid-fuel rockets and introducing an automatic maintenance system.
The primary goal of H-3 development is to drastically reduce the cost of rocket launches. Although the H-2A has a 95.5 percent success rate, each launch costs 8.5 billion yen to 10 billion yen, significantly higher than overseas launches.
Under the national aerospace basic plan devised in January, Japanese government aims to receive more than one order per year for satellite launches from other countries or commercial entities over the next 10 years or so. Setting this target has urged relevant players to boost the international competitiveness of Japanese large-scale rockets.
The H-3 is expected to cost about 190 billion yen to develop. The combined cost of developing the H-2A and the updated H-2B rockets was about 180 billion yen.