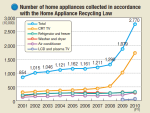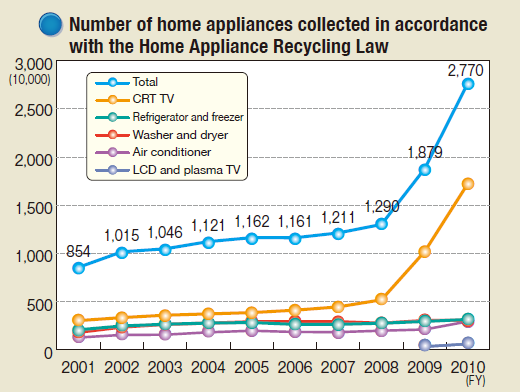 Home appliances can be a source of pollution if handled inappropriately, but become useful resources if handled in the right way
In developing countries, small companies recover precious metal from appliance waste manually, which is a health hazard for workers and contributes to environmental pollution. Home appliances contain both hazardous substances and useful resources, such as rare metals. Treatment through sophisticated resource recovery technology produces merit in term of environmental preservation and the reuse of precious resources.
During the 1990s, the introduction of wide-ranging larger home appliances increased the burden of municipality-managed bulk waste treatment facilities in Japan. The compacting of these appliances became difficult, and the ability of such facilities to recover useful resources reached its limit, making it necessary to search for alternative methods of recycling, which led to the enactment of the Home Appliance Recycling Law in 2001. This law included the concept of Extended Producer Responsibility (EPR), in which the responsibility of the producers extended to disposal at the end of product life. Now, appliance producers, etc. are the ones recycling items specified in the law and recycling is made more efficient through a high recycling rate.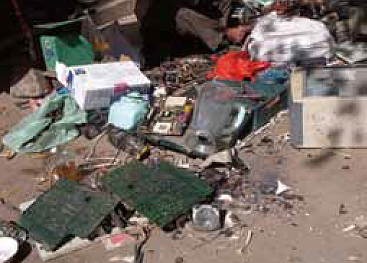 In Asian regions, electronic parts that contain hazardous lead are abandoned, causing anxiety about environmental pollution.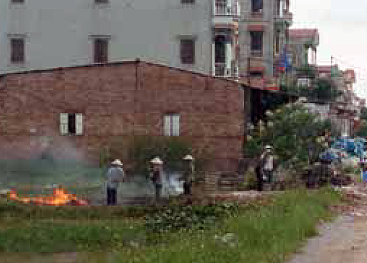 In developing countries, copper is recovered by open burning, creating labor hygiene problems, and air and water pollution.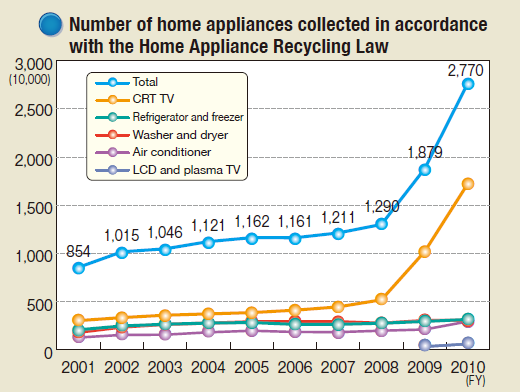 Click the image to enlarge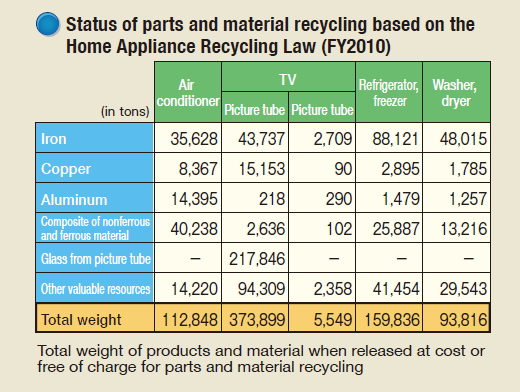 Click the image to enlarge
Column: Home appliance recycling in Japan
The Recycling Specified kinds of Home Appliance Recycling Law stipulates that four home appliances – air conditioners, TVs, refrigerators, and washer-dryers – are to be disposed of with responsibility shared by several parties. Waste generators deliver the used appliances to retailers, who charge for disposal. The retailers take the appliances to the manufacturers, importers of the said appliances, etc., who are responsible for recycling.
Home appliance recycling technology in Japan
Home appliance recycling technologies in Japan focus on the effective utilization of resources and the safe treatment of hazardous material, and methods and operations becoming more and more sophisticated. Japan has many outstanding recycling achievements and many recycling facilities are operating stably.
The prevailing method of handling used home appliances in the past was to first break them apart with a simple machine and then sort out the recyclable parts using magnets. Today, recycling has become more sophisticated. To improve the purity of recovered resources, appliances are first taken apart and sorted manually, then compacted. The operation is efficient in that not only metallic material but also plastic parts are recovered for recycling.
Refrigerators and air conditioners contain chlorofluorocarbons that damage the earth's ozone layer. These hazardous liquid chlorofluorocarbon and chlorofluorocarbon in insulating material are recovered for proper disposal. Furthermore, consideration is given for the safety of workers and protection of the environment of surrounding areas.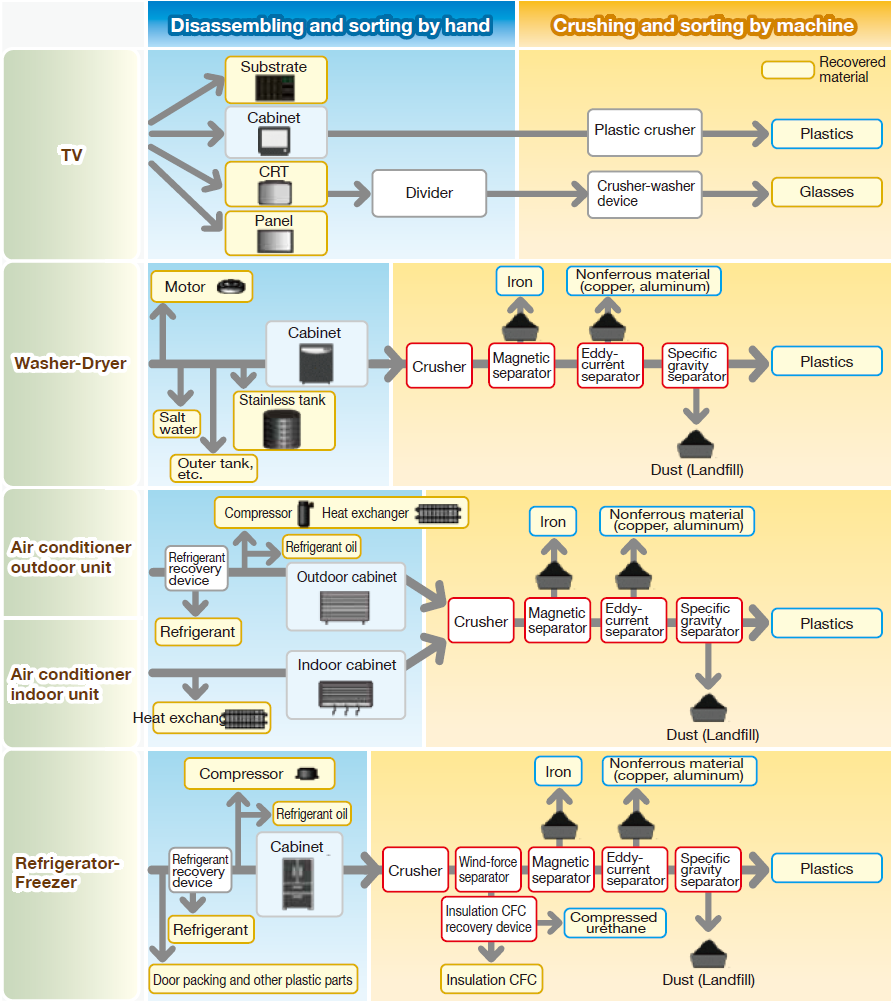 Click the image to enlarge
Japanese Corporations Advancing Overseas
Japanese Corporations are already advancing into China and other countries with home appliance recycling businesses.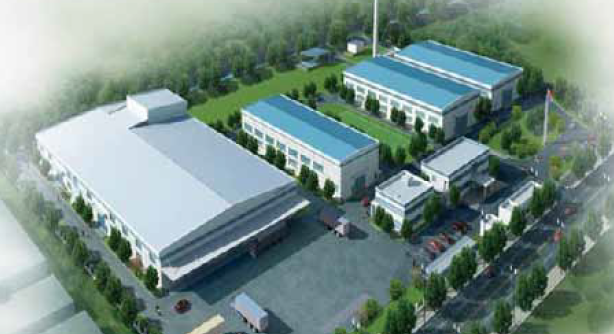 A home appliance recycling plant constructed as a joint venture between Japanese and local company (Suzhou, China)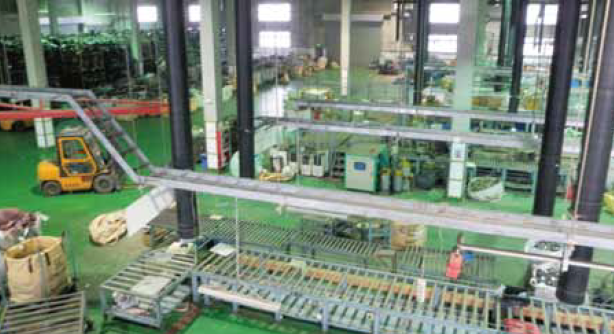 Japanese home appliance recycling plants are operating in China and other countries. (Source:DOWA Eco-System Co., Ltd.)
Column: Collaboration with the nonferrous refining industry


In collaboration with the nonferrous refining industry, heat and chemical treatments recover useful metals of high purity. Research is also conducted to develop technology to recover and use rare metal in the future.
Biomass utilization technology » (Coming soon)