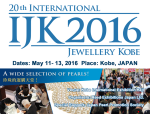 20th International Jewellery Kobe (IJK 2016)
Date: May 11(Wed) – 13(Fri), 2016
Hours: 10:00 – 18:00 (Last Day 17:00)
Venue: Kobe International Exhibition Hall, Hyougo, Japan
Organizer: Reed Exhibitions Japan Ltd.
Contact: +81-3-3349-8519
Official Site: www.ijk-fair.jp/en/
IJK is Japan's Largest and Best Mid-Year Jewellery Show! A wide range of jewellery from fine jewellery to fashion jewellery as well as a variety of loose stones and strands will be exhibited. Also, related products such as materials and services will gather under one roof.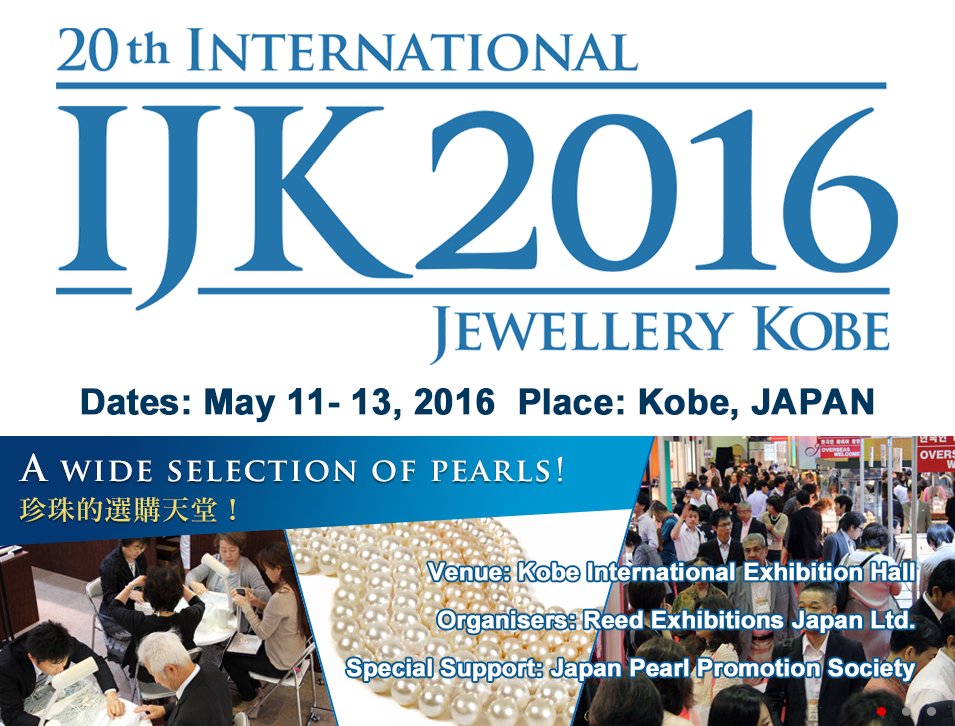 Every year, executives and professional buyers from jewellery retailers, department stores, select shops, etc., visit IJK from all over the world to source. Serious business discussions take place everywhere during 3 show days. In recent years, a surge in overseas buyers especially from nearby Asian countries are adding much buzz to the show.
Exhibit Profile
Jewellery Products:
Diamond set jewellery, Platinum jewellery, Antique jewellery, Bridal jewellery, Chains/Necklaces, Gem set jewellery, Gold jewellery, Men's jewellery, Brand jewellery, Earrings, Pearl jewellery, Silver jewellery , Designer's jewellery, Costume jewellery, Arts and crafts, and etc.
Gemstones / Loose Stones:
Diamonds, Sapphires, Tanzanites, Turquoises, Cat's eyes, Rubies, Opals, Tourmalines, Agates, Emeralds , Aquamarines, Paraiba tourmalines, Alexandrites, and etc.
Loose Pearls:
Akoya pearls, Keshi pearls, Mabe pearls, Southsea pearls, Freshwater pearls, Conch pearls, and etc.
Other Gemstones:
Ambers, Corals, Jades, Tortoise shells, Ivories, Cameos, Jets, Crystals, Synthetic stones, and etc.
Jewellery Related Products:
Clasps, Empty frames, Parts, Production machinery, Tools, Showcases/Displays, Shop designs, Jewellery boxes, Reform related products, Customer management systems, IT related products , Security/Surveillance, Jewellery maintenance goods, Certification, Consulting, Publications, and etc.
Visitor Profile
Retailers
Jewellery retailers, Department shops, Mass retailer, Apparel boutiques, Specialty Stores Mail-order/Online Stores, Variety Stores, etc.
Wholesalers, Manufacturers, Jewellery designers/craftsmen, Overseas buyer
Media
TV, trade press, general press, newspapers, etc.
Jewellery related business & others