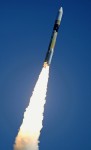 Japan successfully launches intelligence satellite
Date: Mar 26, 2015
Source: Kyodo
TANEGASHIMA, Japan (Kyodo) — Japan successfully launched Thursday morning a rocket carrying a backup optical satellite for the government's intelligence gathering program.
The Japan Aerospace Exploration Agency and Mitsubishi Heavy Industries Ltd. launched the H-2A rocket with an advanced ground-monitoring satellite at 10:21 a.m. from the Tanegashima Space Center in Kagoshima Prefecture, southwestern Japan.
Currently, Japan has two radar satellites and two optical satellites in operation, which are able to collect images of any point on the ground at least once a day.
The latest satellite will replace one of the two optical satellites that was launched in 2009. It was developed at a cost of 32.5 billion yen ($272.2 million), according to the Cabinet Satellite Intelligence Center.
Images taken by the intelligence satellites include fishing boats believed to be Chinese ships engaged in coral poaching, according to the center.
Information obtained and images captured by the satellites will not be publicly released as they are designated as state secrets under a law that took effect last year.
This was the 22nd consecutive successful launch of an H2A rocket, and brings the success rate up to 96.4 percent.