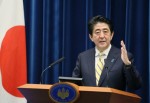 Tokyo stocks rise on hopes for new economic policies by Abe
Date: Nov 21, 2014
Source: Kyodo
TOKYO (Kyodo) –Tokyo stocks edged higher Friday on investor hopes for a release of fresh economic policies by Prime Minister Shinzo Abe later in the day in the wake of the dissolution of the lower house.
The 225-issue Nikkei Stock Average ended up 56.65 points, or 0.33 percent, from Thursday at 17,357.51. The broader Topix index of all First Section issues on the Tokyo Stock Exchange finished 2.54 points, or 0.18 percent, higher at 1,400.18.
After starting on a weak tone, pushed down by selling to lock in gains amid a sense of overheating with the Nikkei having risen 19 percent since Oct. 17, the market changed course in the afternoon, brokers said.
The morning selling was what is typically seen ahead of a three-day weekend in Japan, said Hiroichi Nishi, assistant general manager of equity research at SMBC Nikko Securities Inc., with next Monday being the Labor Thanksgiving Day holiday.
In the mid-morning, the market extended its losses as the U.S. dollar's decline to the 117 yen range weighed on exporter shares. The dollar's drop was apparently triggered by Finance Minister Taro Aso's warning about the rapid fall of the yen versus the dollar.
But the market turned upward on hopes for fresh economic policies due to news that Abe will hold a press conference in the evening after dissolving the House of Representatives for a general election in December, the brokers said.
Regarding the selling spurred by the yen's rebound, SMBC Nikko's Nishi said, "The stronger yen directly led to selling (of stocks), although the stock market has been showing dull reaction to the (recent) excessive acceleration in the yen's fall for fear of side effects including higher import goods prices."
Rising issues outnumbered falling ones 1,047 to 640 on the First Section, while 147 closed unchanged.
Gainers were led by pulp and paper, mining as well as oil and coal products issues, but trading companies and textiles lost ground.
Casio Computer rose 48 yen, or 2.9 percent, to 1,728 yen on the Nikkei business daily's report that the Japanese maker is expected to raise its annual dividend to 30 yen from the earlier forecast 25 yen.
Lifestyle products maker Kao climbed 40.50 yen, or 0.9 percent, to 4,505.00 yen one day after announcing it will retire about 2.3 percent of its outstanding shares.
On the back of the recent weakening of the yen, travel agency H.I.S. skidded 66 yen, or 2.5 percent, to 2,524 yen, on concerns about a decline in the number of Japanese travelers going abroad.
Trading volume on the main section increased slightly to 2,517.05 million shares from 2,453.24 million shares Thursday.