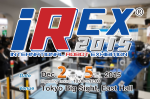 International Robot Exhibition 2015 (iREX 2015)
Date: Dec 2(Wed) – 5(Sat) 2015
Hours: 10:00 – 17:00
Venue: Tokyo Big Sight (East Hall)
Organiser: Japan Robot Association (JARA) and The Nikkan Kogyo Shimbun, Ltd.
Official Website: http://biz.nikkan.co.jp/eve/irex/english/
The 21st International Robot Exhibition, also known as iRex, will be held in Ariake, Japan, at the Tokyo International Exhibition Center from December 2-5, 2015.
The iRex conference and exhibition is held every two years in Japan, and it has become the largest international show that exclusively exhibits robots. This event attracts an average of 5,000 overseas visitors.
IREX includes about 500 domestic robot manufacturers and related businesses and over 50 international exhibitors. Approximately, 100,000 domestic technicians and professionals are expected to participate from different fields like electronics, automotive etc. along with foreign participants .
For 2015, iRex is expanding to showcase some of the latest in robotic technology. This will include special sections dedicated to simulation and vision systems, service robots, industrial robots, small production systems, related elemental devices and robots that have been created through the research and development efforts of academia, industry and the government.
Industrial Robot Zone