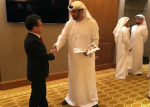 Japan's METI agrees to cooperate on new ADNOC partnership strategy
Date: July 21, 2017
Source: Hellenic Shipping News
Japan's Minister of Economy, Trade and Industry Hiroshige Seko and Abu Dhabi National Oil Company CEO Sultan al-Jaber agreed Thursday to cooperate on ADNOC's recently announced new strategy, a METI official said.
During the half hour meeting in Tokyo, Seko and Al-Jaber, who is also the UAE's minister of state, agreed to wide-ranging cooperation on ADNOC's new strategy announced on July 10, the official said.
ADNOC's new partnership strategy outlined criteria that included the ability to "secure better access to the world's fastest-growing target markets for ADNOC's products."
ADNOC also included a willingness to contribute technical expertise and jointly develop new technologies, as well as potential for joint strategic investments in the value chain.
Speaking at the beginning of the bilateral meeting, Al-Jaber said: "We have both, Japan and the UAE, worked very hard at establishing a very robust, strong foundation for a long-term, strategic partnership."
OFFSHORE CONCESSIONS NOT DISCUSSED
Seko's latest meeting with Al-Jaber came just a week after Japanese State Minister of Economy, Trade and Industry, Yosuke Takagi, visited Abu Dhabi to meet officials including UAE energy minister Suhail al-Mazrouei, Al-Jaber and paying a courtesy visit to Crown Prince Mohammad bin Nahyan.
Touching on Takagi's meeting with Al-Jaber, Seko said at the beginning of the meeting that he had been told Takagi and Al-Jaber had "detailed discussions."
During his visit there, Takagi pressed the case for Abu Dhabi to extend the interests of Japanese companies in the emirate's offshore oil concessions, over 60% of which are due to expire in March 2018. He also discussed ADNOC's new growth strategy and deepening bilateral cooperation in the upstream, midstream, downstream oil and gas sectors.