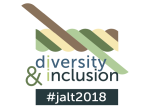 44th Annual International Conference on Language Teaching and Learning & Educational Materials Exhibition (JALT2018)
Date: Nov 23-26, 2018
Venue: Shizuoka Convention & Arts Center(Granship)
Location: Google Map
Organizer: The Japan Association for Language Teaching
Official Website: https://jalt.org
44th Annual International Conference on Language Teaching and Learning & Educational Materials Exhibition, organized by the Japan Association for Language Teaching will take place from 23rd November to 26th November 2018 at the Shizuoka Prefecture Convention Arts Center (Granship) in Shizuoka, Japan.
JALT2018 will provide a platform for new ideas and hitherto unheard voices to be heard. It will provide avenues to open up JALT's classrooms and challenge existing ideas about what we language teachers and learners need in order to usher in an era of change. JALT aims to address the concerns of teachers, learners, and leaders and show how "inclusion" provides a place from which multiplicity of thought and action can flourish.
About JALT:
The Japan Association for Language Teaching (JALT) is a nonprofit organisation dedicated to the improvement of language teaching and learning. JALT promotes excellence in language learning, teaching, and research by providing opportunities for those involved in language education to meet, share, and collaborate.