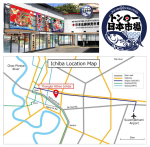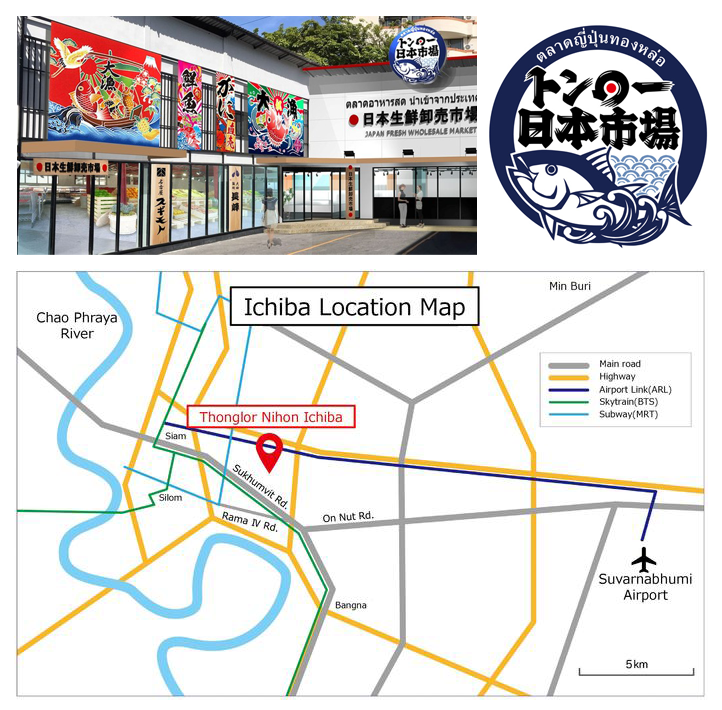 JALUX Group to Open "Thonglor Nihon Ichiba," First Japanese Fresh Wholesale Market in Thailand, to Supply Japanese Ingredients Overseas
Date: May 30, 2018
Source: JALUX Inc.
JALUX Inc. is to open "Thonglor Nihon Ichiba," its first Japanese fresh wholesale market in Thailand, on June 9 (Saturday), 2018, in Bangkok's Sukhumvit Thonglor area through "J VALUE CO., LTD.," a joint venture established in the Southeast Asian country with other firms.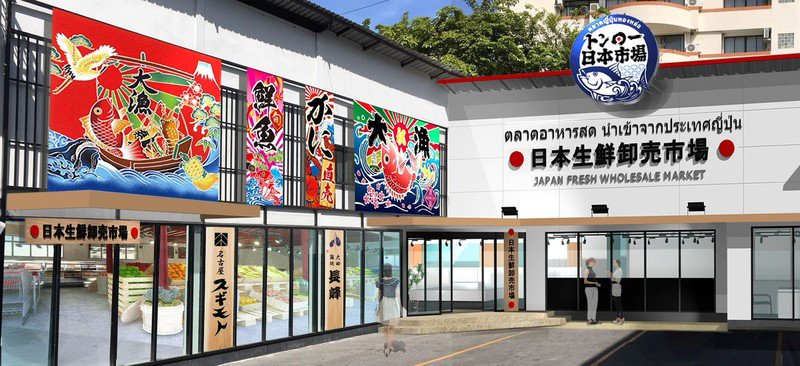 "Thonglor Nihon Ichiba," a Japanese fresh wholesale market, will open in the Sukhumvit Thonglor area, home to especially many Japanese restaurants in the Bangkok metropolitan region. Based on the concept of "Supplying Japan's high-quality products to the world," the market will provide fresh and safe Japanese ingredients (fresh fish, vegetables, fruit, beef and so on) to local restaurants, hotels, wholesalers and retailers. The market will contribute to further enriching local food culture by offering an environment in which people can procure an abundant variety of high-quality Japanese ingredients.
About the joint venture
In order to open the market, the JALUX group, together its local Thai unit JALUX ASIA Ltd., established joint venture "J VALUE CO., LTD." with intermediate fresh fish wholesaler KAMEMOTO SHOTEN CO., LTD. and fruit and vegetable wholesaler NAGAMINE SHOTEN CO., LTD., both based in Tokyo's Tsukiji, and SUGIMOTO MEAT PACKING CO., LTD., a butcher shop based in the central Japanese city of Nagoya. Each company has its own know-how accumulated over many years in its respective field and is a time-honored company with a track record of exporting food products to Asian countries.
While having accumulated know-how of food distribution business and a track record of doing business in Thailand, the JALUX group will create a wholesale market where customers can procure "necessary things only in necessary quantities when necessary" by taking advantage of each company's strength and network and coordinating with the Japan Airlines (JAL) group for air transportation, among other efforts.
Background
Demand for Japanese food has been increasing in Thailand in recent years due in part to rising health consciousness and needs for Japanese cuisine created by an increasing number of tourists visiting Japan. Therefore, Thailand is said to be the country with the largest number of Japanese restaurants in Southeast Asia. Furthermore, while food diversification gets underway due to an increasing number of tourists visiting Thailand, demand for Japanese food that is popular throughout the world tends to increase further.
Under the corporate philosophy of "Contributing to Tomorrow as Your Partner for Brightening Society, Humans and the Environment," JALUX will continue to contribute to enriching food culture of the world by seeking to expand the market share of Japanese ingredients in Southeast Asia and elsewhere overseas.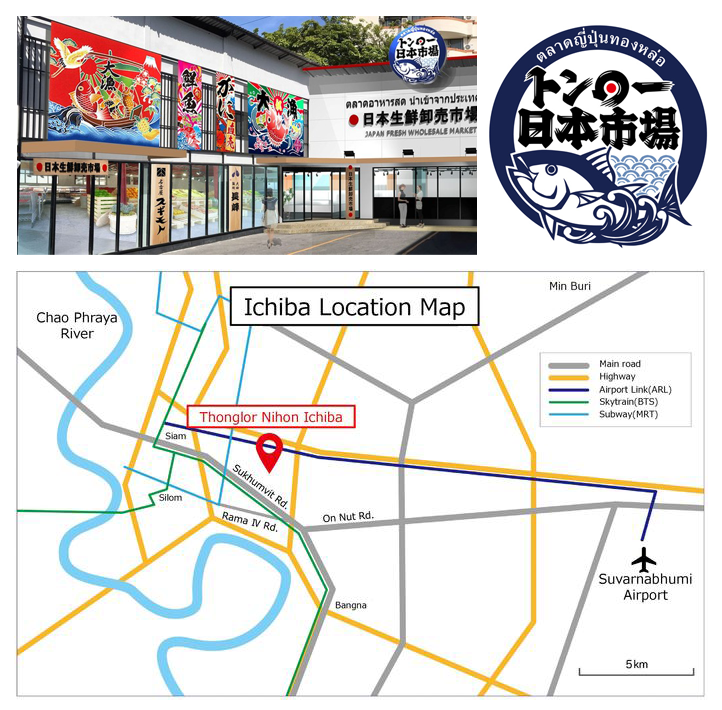 Brief overview of the market
Address: 87 Soi Akapat (Thonglor 13), Sukhumvit 55 Road, Klongtan-Nua, Wattana, Bangkok (in Japan Village)
Exclusive area: 700 square meters
Business contents: Wholesale of Japanese ingredients for professional use, etc.
Products handled: Fresh fish, vegetables, fruit, beef and so on
Operating hours: 8:00-17:00 (Products also available to ordinary customers after 12:00)
Business holiday: Tuesday
Capacity: about 80 persons
Parking space: 60 vehicles
Brief overview of the joint venture
Name: J VALUE CO., LTD.
Address: 87 Soi Akapat (Thonglor 13), Sukhumvit 55 Road, Klongtan-Nua, Wattana, Bangkok
Established: March 15, 2018
Representative: President Haruo Endo
Capital: 44,440,000 baht
Business contents: Operation of a wholesale market of fresh Japanese ingredients for professional use in Bangkok, Thailand
Investment ratio: JALUX ASIA Ltd. (51.0%), JALUX Inc. (11.5%), KAMEMOTO SHOTEN CO., LTD. (12.5%), NAGAMINE SHOTEN CO., LTD. (12.5%), SUGIMOTO MEAT PACKING CO., LTD. (12.5%)