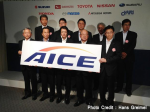 Japanese collaborate on r&d for new fuel efficient engines
Date: May 19, 2014
Source: Automotive News – by Hans Greimel
TOKYO — Japan's automakers, aiming to take the lead in fuel-efficient powertrains, have joined forces in a new consortium to develop the next generation of fuel-sipping combustion engines.

Their goal: A 30 percent improvement in the fuel efficiency of traditional gasoline and diesel engines by 2020.
The Japanese government will aid the country's eight automakers by chipping in half of the project's 1 billion yen ($9.9 million) budget. The automakers will foot the rest.
The r&d push is being organized under the newly created Research Association of Automotive Internal Combustion Engines. It pools the resources of Toyota Motor Corp., Nissan Motor Co., Honda Motor Co., Mazda Motor Corp., Mitsubishi Motors Corp., Daihatsu Motor Co., Suzuki Motor Corp. and Fuji Heavy Industries Ltd., the maker of Subaru-brand vehicles.
Member companies will jointly conduct basic research on a better internal combustion engine. The objective is to share costs in an increasingly competitive, investment-heavy field to meet more stringent fuel economy guidelines, organizers said.
The r&d will eventually feed into production vehicles.
The strategy is patterned after a similar approach taken by competitors in Europe, organizers said. There, rivals cooperate with academia and the government on basic technologies, giving European carmakers a head start in cutting costs.
While Japanese automakers have developed advanced electric and hybrid drivetrains, the creation of AICE acknowledges that internal combustion engines will remain the workhorse of global fleets for a long time, especially in cost-sensitive emerging markets.
---
Research Association of Automotive Internal Combustion Engines