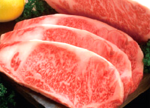 Japanese beef exports hit record high
Date: Dec 6, 2014
Source: Nikkei Asian Review
TOKYO — With more Japanese beef being sold abroad than ever before, meat distributors are hoping foreigners will hanker for the premium cuts that penny-pinching domestic consumers pass by.
Beef exports hit all-time highs this year both in quantity and value. Through October, volume grew 40% on the year to 959 tons, beating a 12-month record of 909 tons set last year. All that meat was worth 6.2 billion yen ($51 million), an increase of 40%.
With fewer cattle being raised as more of Japan's graying ranchers call it quits, wholesale prices of domestic beef are rising. Premium grades make up a growing proportion of the beef going to market, but Japanese consumers are proving a consistently frugal bunch.
Supermarkets prefer to stock cheaper cuts, leaving the choicest bits little room for growth. The wholesale price of a kilo of sirloin has risen just 3% to 5,728 yen since fiscal 2012, compared with a 15% increase for round, which costs less than half as much, according to Agriculture & Livestock Industries Corp., an independent administrative agency.
Japan's beef industry is looking instead to foreign markets. Major meat distributors have organized trade shows and other overseas events to try to promote "wagyu" — cattle breeds that produce Kobe beef and other famous varieties. The government has set a goal of raising beef exports to 4,000 tons, or 25 billion yen, by 2020.

Continue reading »