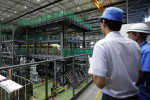 Japan bets on aerospace as it seeks to regain manufacturing might
Date: August 23, 2016
Source: The New York Times – By JONATHAN SOBLE
GIFU, Japan — Kato Manufacturing, based in the blue-collar enclave of Gifu prefecture, in central Japan, is a microcosm of the country's industrial evolution.
The family-run metal shop, started 128 years ago, originally made simple farming tools. When Japan morphed into a manufacturing giant, churning out automobiles and electronics for the world, Kato supplied the sculpted frames and housings that gave products their shape.
Now, as Japan aggressively tries to regain some of its manufacturing might in the face of competition from lower-cost countries like China, Kato is producing parts for airplanes. The company recently installed new metalworking machinery and hired a half-dozen workers to accommodate orders from domestic aircraft makers.
"Airplanes, rockets — they're a symbol for manufacturing," said Keiji Kato, the company's president and the fourth generation of the family's leadership at the firm.
Kato Manufacturing is a small piece of Japan's vast bet on aerospace, a multibillion-dollar government effort to replace lost manufacturing jobs and to lift up the country's industrial heartland, centered in Gifu and neighboring prefectures. Sony and Panasonic have closed consumer-electronics factories here in the past decade. While the car industry has been more resilient, officials worry that the region's industrial base is becoming dangerously narrow.
Developing aerospace is more than just a bid for economic growth. The most public symbol of this effort, the Mitsubishi Regional Jet (MRJ), is being billed as an instrument of national pride and industrial renewal, a chance for Japan Inc. to restore some of its former glory. At a short test flight of the aircraft from an airport in Nagoya, Japan's economy minister declared "the start of a new era for Japan's aviation industry."