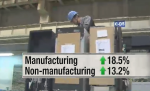 Major firms to boost investments
Date: Aug 5, 2014
Source: NHK World
A survey shows that capital investments planned by major Japanese companies for fiscal 2014 will amount to the sharpest increase in 24 years.
The Development Bank of Japan conducted the survey. More than 2,200 large firms responded. Domestic corporate investments are expected to swell by 15.1 percent from the previous fiscal year.
That's the biggest increase since fiscal 1990. It will be the 3rd consecutive year-on-year rise if the investments are implemented as expected.
Capital spending in the manufacturing sector is forecast to climb by 18.5 percent, while investments in the non-manufacturing sector will grow 13.2 percent.
Automakers are spending more to produce fuel-efficient cars. Real estate agents and retailers plan to set up more outlets.
But the survey also shows that 27.3 percent of manufacturers are allocating their investment money for the maintenance and repair of existing facilities.
The results suggest that most companies remain cautious about boosting production capacity.