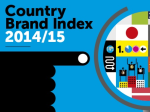 FutureBrand launches the Country Brand Index 2014-15
Date: Nov 11, 2014
Source: FutureBrand by FutureBrand, Press Release
Japan Crowned Strongest Country Brand 2014
Today, FutureBrand reveals its latest ranking of the world's leading country brands. Asia tops the Country Brand Index (CBI), with Japan at number one for the first time in the report's history.
The top 10 country brands of 2014 are:
Japan
Switzerland
Germany
Sweden
Canada
Norway
United States
Australia
Denmark
Austria
In another first this year, FutureBrand's research has revealed that not all of the 75 countries studied qualify as 'brands'. In fact, only 22 meet the criteria of a 'country brand' and can be shown to have a measurable competitive advantage over their peers as a result. For example, people are more likely to visit, recommend and do business with them. And twice as many people say they would buy products from a country brand than they would from a 'country'.

The key drivers of a 'country brand' include having a reputation for high quality products, a desire to visit or study in a country and perceptions of good infrastructure. For example, 70% of respondents believe Germany has high quality products – a top three country brand in this year's rankings – compared to an average of 14% for those classified as 'countries'.
Other key findings from the report include:
1. Awareness does not make a country brand: For example, Italy enjoys higher awareness levels than Japan (89% compared to 84%) but is seventeen places lower in the rankings.
2. Country brands are associated with consumer brands: On average, respondents demonstrated awareness of a larger number of consumer brands across more categories for the 22 country brands. For example, Japan elicited associations with Toyota, Nintendo, Honda, Sony, Toshiba and Panasonic.
3. Country brands are seen to have expertise across categories: France is most strongly associated with Fashion (65%), Germany with Automotive (77%) and Japan with Technology (78% – the highest score of a country in a category).
4. Country brands have most momentum in technology, innovation and sustainability: Top country brands are seen to have more momentum in technology and innovation or environmental friendliness than political, economic or cultural significance.
5. New York, London and Beijing will be the most influential global cities: There is often a correlation between perceptions of city influence and country brand strength, but not always. The ranking of the twenty most influential cities does not include any in Norway or Denmark – both top ten country brands. And seven of the most influential cities are not in the top twenty country brands.
Tom Adams, Global Head of Strategy at FutureBrand and co-author of the report said of the findings: "This year's research shows that having a strong country brand brings measureable competitive advantage in terms of visitation, advocacy and investment, as well as consumer preference for products and services. So it continues to be vital to manage country identity and reputation as you might a corporate or consumer brand. For those countries that do not yet qualify as 'brands', the Country Brand Index offers valuable insight into the levers you can pull for stronger perception across the dimensions that drive visitor choice."
Christopher Nurko, Global Chairman of FutureBrand added: "The Country Brand Index provides further vital evidence of the importance of 'made in' to country reputation and value – consumers around the world really do have stronger associations with countries that have expertise across multiple categories and are seen as the countries of origin of the brands they love. But it also shows that country brand perception strength is as much about momentum in innovation, technology and the environment as it is political and economic significance, which hints at a shift in the drivers of country reputation shaping the future."
To download the full version of 'The Country Brand Index' report visit: www.futurebrand.com/cbi/2014
Notes for editors:
Methodology FutureBrand collected quantitative and qualitative data from 2,530 opinion-formers and frequent international business or leisure travellers in 17 countries (USA, Canada, Brazil, Argentina, Mexico, UK, Germany, France, Russia, Turkey, South Africa, UAE, India, China, Thailand, Japan and Australia).
The questionnaire was developed around our proprietary Hierarchical Decision Model (HDM) to understand how strongly audiences perceive countries from levels of awareness to advocacy. The HDM takes seven areas into consideration: Awareness, Familiarity, Preference, Associations, Consideration, Decision/Visitation and Advocacy. For the purpose of ranking, the research weights in favour of Associations across six dimensions and their related attributes – from Value System to 'Made in'.
The global research sample of 2,530 respondents was selected according to the following screening criteria:
Aware of and familiar with all the countries covered.
Interested in travel abroad.
Have travelled internationally at least once in the last year, mix of business and/or leisure.
21-65 years old.
Balanced between male and female.
About FutureBrand
FutureBrand is the creative future company: a global brand and innovation consultancy, part of the Interpublic Group. Through traditional branding skills and foresight, we help companies create the future for their brands and businesses.
Around the world, we combine strategic thinking and creative inspiration to help our clients create, build and manage brands. Whether branding a company, a product, a service or a country we believe that great results can only be achieved through a combination of inspiration and collaboration.
We work in over 20 markets around the world with clients including American Airlines, London 2012, UPS, Xstrata, Intel, Nestlé, Dow, Brand Peru, Brand Mexico, Tahiti Tourism and Fiji Airways.
For further information, interviews or images, please contact Damien Moore-Evans at FutureBrand: 0044 (0)20 7067 0595 / DMoore-Evans@futurebrand.com
About QRi Consulting
QRi Consulting is FutureBrand's global research partner for the Country Brand Index. Working in close collaboration, QRi helped to define the research approach against FutureBrand's initial hypothesis, as well as managing recruitment, questionnaire development, and providing in-depth analysis of the qualitative and quantitative data underpinning the report. This is informed by QRi's extensive research, country brand and sector knowledge and experience as well as their proprietary QualiQuant™ methodologies.