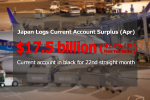 Japan logs current account surplus in April for 22nd month
Date: 6/8/2016
Source: Kyodo News
TOKYO (Kyodo) — Japan posted a current account surplus for the 22nd consecutive month in April, the government said Wednesday, as declining crude oil prices reduced imports and a rising number of foreign tourists continued to push up a travel surplus.
The current account surplus expanded 41.7 percent from a year earlier to 1.88 trillion yen ($17.5 billion), the Finance Ministry said.
Among key components in the current account, one of the widest gauges of a country's international trade, goods trade registered a surplus of 697.1 billion yen, a reversal from a deficit of 132.0 billion yen a year earlier.
Exports dropped 10.4 percent from a year earlier to 5.60 trillion yen, partly affected by a drop in automobile exports following the quake in Kumamoto Prefecture. Imports slid 23.1 percent to 4.91 trillion yen.
The value of crude oil imports fell 51.8 percent as average oil prices slid 34.3 percent to $36.96 per barrel in the month. The value of liquefied natural gas imports plunged 44.5 percent.
Crude oil prices have been recovering recently, with the benchmark futures contract rising above $50 per barrel in New York on Tuesday for the first time in more than 10 months.
"It is likely to take a few months to have the effect of rising crude oil prices reflected" in Japan's trade data, a ministry official said, adding that the trade surplus is unlikely to maintain its current momentum.
Japan has been relying heavily on energy imports since the March 2011 Fukushima nuclear disaster led most of the country's commercial reactors to remain offline amid heightened public concern about their safety.
The surplus in the primary income account, which reflects how much Japan earns from foreign investments, fell 18.9 percent to 1.78 trillion yen, as a firming yen reduced interest receipts and dividends from overseas when repatriated.
In the reporting month, the yen climbed 8.1 percent from the previous year to an average 109.88 yen per U.S. dollar, and rose 3.5 percent to 124.37 yen per euro, according to the ministry.
The travel surplus climbed 16.1 percent to 155.9 billion yen, a record high for the month since comparable data became available in 1996, as the number of foreign tourists increased 18.0 percent in April from a year earlier to 2.08 million, the ministry said.
The service balance, which also includes passenger transportation and royalties, logged a deficit of 401.2 billion yen, a reduction from a 531.6 billion yen deficit a year earlier.