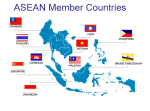 Investment in China shifting to ASEAN
Date: Aug 7, 2014
Source: NHK World
Analysts at a Japanese trade organization say companies in the nation are increasingly shifting their Asian investment focus from China to ASEAN countries.
The Japan External Trade Organization, or JETRO, says foreign direct investment launched by Japanese businesses last year set a new record at 135 billion dollars. That's up 10.4 percent from the previous year.
The increase came from a string of large-scale corporate buyouts and automakers expanding factory construction.
By country, the United States received the biggest amount of investment from Japan at 43.7 billion dollars.
Investment in China fell 32.5 percent to 9.1 billion dollars. In ASEAN nations, investment swelled 2.2 times marking a record at 23.6 billion dollars.
JETRO says Southeast Asia is gaining attention for its low labor cost and promising consumption market. It says more Japanese firms are shifting their investment to the region from China, where labor costs have risen.