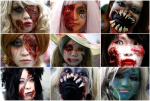 Halloween all the rage in Japan
Date: Oct 31, 2016
Source: Bangkok Post
Enthusiasm among young Japanese for Halloween continues to grow year by year, not only as a day to enjoy "cosplay" but as a time to spend on goodies like nobody's business.
Observed in many countries as a time dedicated to remembering the dead, the celebration in Japan has become firmly rooted as an autumn tradition of lighthearted fun or a bit of the macabre.
According to the Japan Anniversary Association, the market size for Halloween this year has been estimated at 134.5 billion yen ($1.28 billion), double the amount from 2011 — exceeding that of Valentine's Day (134 billion yen), a celebration in Japan where women often present gifts of chocolate and other confectioneries to their significant others.
"There has been about a 20% rise in sales each year since two years ago, and we are expecting an overall rise of 20% this year as well," said Yosuke Shimanuki, head of the sales support department for discount chain store Don Quijote Co.
To attract more customers the store set up a "Trick or Treat" booth, and a corner where the Hello Kitty character makes appearances a few times a day. Don Quijote provided costume fitting rooms for its customers at its Shibuya store.
"We don't just want to sell our products but make sure there is no disturbance for people who are not celebrating Halloween," said Mr Shimanuki, adding that patrons can enjoy the activities, such as taking commemorative photos with Kitty-chan, while they shop.
The uptick in sales is not exclusive to Don Quijote.
"Halloween sales of confectioneries this year were 150% higher than last year and more than on Valentine's Day," said Hajime Morimoto, 67, president of Enfant Co, a confectionary store in the shopping mall Ginza Mitsukoshi. Most of the special Halloween items that were set to be sold from Oct 26-31 sold out, he said.
"We wanted to go to Disneyland for Halloween, but since we couldn't I thought I should dress with my daughter and celebrate at home," said Megumi Kawaguchi, 44, who visited the Don Quijote store in Shibuya with her daughter Momoko, 8.
Confection designs, some in the industry say, have become more ghoulish over the years.
"Until now there were cute confections in the shapes of pumpkins or spiders, but since last year sweets with creepy designs have become popular like ones with blood or those in the shapes of (severed) fingers or bats, said Mr Morimoto, referring to an influence of "creepy costumes" that according to him Japanese only recently have grown an affinity for.