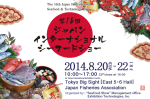 The 16th Japan International Seafood & Technology Expo
Date: August 20 (Wed) – 22 (Fri), 2014
Time: 10:00 – 17:00
Venue: Tokyo Big Sight (East 5,6 Hall), Tokyo, Japan
Organizer: Japan Fisheries Association
Official Website: Japan International Seafood & Technology
Contact: +81-3-5775-2855 or sf-int@exhibitiontech.com
Number of booths: 1,000 booths
Expected number of buyers: 32,000
It is our honor to announce you that the 16th Japan International Seafood & Technology Expo will be held on 20-22 August at Tokyo Big Sight. This annual trade show is endorsed by Japan Fisheries Association and is seafood only trade fair that is open for professional traders such as retail, food service and distribution buyers etc.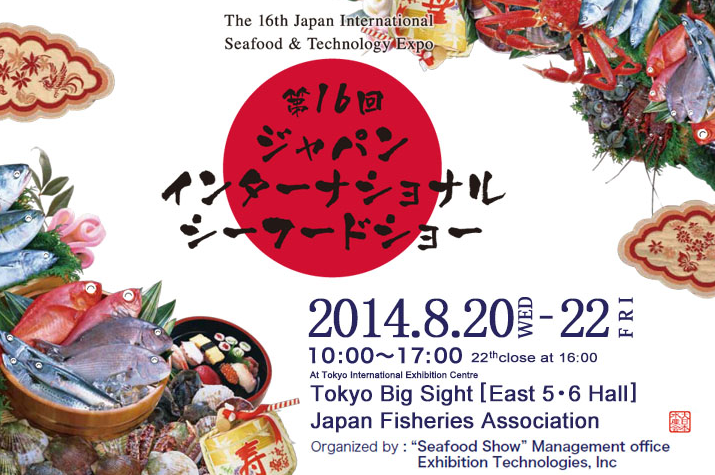 Targeted visitor groups
Seafood buyers


Large & small supermarkets, chain stores, department stores, fish dealers and other retailers, mail-order businesses, TV shopping and internet business

Seafood users


Hotels & restaurants, sushi restaurants, seafood restaurants and other food-service businesses, fishery product processing businesses, meal service businesses, delicatessens and other take-home meal businesses

Those in the domestic Fishing business


Municipal governments, fishing cooperative association fishermen, fish farming businesses, fish processor, those in the fishing business, fisheries experimental stations
Exhibitors profile
Fresh seafood
Processed seafood
Seasonings and food additives
Seafood processing machinery and related equipment
Packaging, distribution equipment and service
Kitchenware and cooking appliances
Sushi business
HACCP-supporting machinery, services and food sanitation management machinery, related equipment and technology
Biomass technology for fishery / Recycling technology
Fishery industry, Fishery market modernizing technology
Fishery Bio technology
Technology for abstracting medical elements from seafood, technology for commercializing these elements, technology for computerizing these elements, functional products related to seafood
Fish farm technologies
Fishery, nursery and aquaculture technologies
Environment-friendly and conservation technologies
Here are some tips for exhibitor to be successful in this show.
Not too fancy


It is not necessary to make your booth fancy. Simply decorated booth is very attractive for those buyers. Let's compete on your fine products.

With simple idea, make it attractive


It is very important to display your items in a way of easy-to-see and touch.

Propose how your items can be used


To make buyers imagine how they can use your fine products in their business. For instance, if you wish to sell as gift, you may arrange items in a nice box and buyers can imagine how the items will be.

Food sampling is very important


Nowadays, it is very easy for everyone to see your items via internet but it is impossible to taste your fine products. One of the benefits of trade show is you can actually hear what buyers really think.