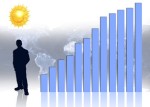 Japan's solar energy capacity continues to show impressive growth
Date: Jun 26, 2014
Source: Hydrogen Fuel News – By Erin Kilgore
Japan is becoming one of the world's leading solar energy markets. The Ministry of Economy, Trade, and Industry has released a report concerning the country's growing solar power capacity. Over the past year, Japan's solar capacity has increased significantly, partly due to the falling cost of photovoltaic technologies and the increased domestic production of these technologies. The government has also been funding the development of the solar energy sector throughout the country quite aggressively.
More than 7 GW of solar capacity was installed in Japan over the past fiscal year
The figures highlighted in the report are based on data provided by the Agency for Natural Resources and Energy. The report shows that more than 7 gigawatts of solar capacity was installed throughout Japan during the past fiscal year. This represents a 10-fold increase over the country's capacity as recorded in early 2013. Much of Japan's solar growth is being attributed to the development of commercial solar energy systems and the growing popularity of rooftop photovoltaic systems.
Residential solar power continues to gain momentum thanks to government incentives
The residential sector had been the most prominent market for solar power in Japan before the development of commercial-scale energy projects won more support from the Japanese government. Residential photovoltaic systems are still growing in popularity among homeowners that are interested in renewable energy and saving money by reducing their consumption of fossil-fuels through utilities. Japan's solar feed-in tariff has gone a long way to promote the adoption of solar power among the country's homeowners.