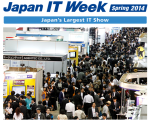 Japan IT Week Spring 2014
Date: May 14 (Wed) – 16 (Fri), 2014
Time: 10:00-18:00 (Last day until 17:00)
Venue: Tokyo Big Sight, Japan
Organiser: Reed Exhibitions Japan Ltd.
Official Website: www.japan-it.jp/en/
Japan IT Week is truly Japan's largest trade show where you can find any kinds of latest IT technologies/solutions. A great number of information systems manager, management executives, sales managers, system integrators and managers from IT system division will visit Japan IT Week to conduct business face to face with exhibitors. Japan IT Week is absolutely meeting point for both IT solution providers and IT system managers.



Why Japan?
Government plans to expand its market size to USD 2.4 trillion by 2020.
The information and communication technology (ICT) industry is the largest industry sector in Japan with market scale of USD 1.2 trillion (as of 2011). Japan's Ministry of Internal Affairs and Communications aims to double the market to USD 2.4 trillion by 2020.
Japanese companies are looking for international business partners.
Due to recent economic conditions and measures against various risks, many Japanese companies are looking for international business partners. Japan IT Week gathers such companies with specific needs and budgets.
---
To Exhibit
End Users (Information Systems Dept., Corporate Managers/Corporate Management Dept., Sales Dept., General Affairs Dept., Human Resources Dept., Accounting Dept., Audit Dept., Legal Affairs Dept., Systems Software Dept., Network and Communications Dept., Corporate Planning Dept., Web Masters, Website Management Dept., Public Relations/Advertising Dept., Brand Management Dept., Marketing Dept., Sales Planning/Promotion Dept., Administrative Dept., etc.)
SaaS Providers, Software Development/Systems Development Companies
System Integrators (SI), Security System Integrators
Data Center Companies/Providers, Data Center Design/Construction Members, Construction Companies, etc.
Content Holders (Publication, Video, Broadcasting, Music, Game, etc.)
Handset Manufacturers, Mobile/Smartphone Vendors
E-Commerce/Mail Order Business Owners, Specialists from Manufacturers and Retailers, etc.
---
Concurrent Shows
23th SOFTWEAR DEVELOPMENT EXPO
Japan's largest software development exhibition
19th DATA WAREHOUSE & CRM EXPO
Japan's only exhibition gathering all kinds of data warehouse and CRM solutions
17th EMBEDDED SYSTEMS EXPO
Asia's largest embedded systems technology exhibition
16th DATA STORAGE EXPO
Japan's largest data storage exhibition gathering storage solutions to manage and protect vast amounts of data
11th INFORMATION SECURITY EXPO
Japan's largest information security exhibition
8th Web & MOBILE MARKETING EXPO
Japan's largest exhibition specialised in web and mobile marketing solutions
6th DATA CENTER EXPO
Japan's largest exhibition gathering power-saving, environment-conscious products and solutions for Data Centers.
5th CLOUD COMPUTING EXPO JAPAN
Japan's largest exhibition gathering all kinds of cloud computing products and services
4rd SMARTPHONE & MOBILE EXPO
Japan's leading exhibition featuring a whole range of solutions, applications and services for Smartphone and Mobile
3nd WIRELESS M2M EXPO
A special exhibition gathering all kinds of M2M-related products and services
2st DIRECT COMMERCE SOLUTIONS EXPO
Japan's leading exhibition for E-commerce and Online Shopping business