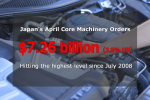 Japan's April core machinery orders up 3.8% on month
Date: June 10, 2015
Source: Kyodo News
Japan's core private-sector machinery orders rose a seasonally adjusted 3.8 percent in April from the previous month for the second straight monthly gain, the government said Wednesday, indicating companies are eager to make investments amid an economic recovery.
The value of orders, widely regarded as a leading indicator of future capital spending, totaled 902.5 billion yen ($7.26 billion), hitting the highest level since July 2008. The orders exclude those for ships and from utilities because of their volatility.
The government upgraded its basic assessment, saying the orders have been "picking up," the first upward revision in four months.
The figures are closely watched as Prime Minister Shinzo Abe views business investment — which accounts for around 15 percent of Japan's gross domestic product — as a pillar of economic growth necessary to beat nearly two decades of deflation.
Orders from the manufacturing sector grew 10.5 percent to 402.0 billion yen, while those from the nonmanufacturing sector fell 0.6 percent to 494.9 billion yen.
By industry, orders from the electrical machinery sector and the automobile and related equipment industry were contributing to the increase, while those from the electric power and communication sectors fell in the wake of large orders the previous month, a government official said.
Total orders, including those from the domestic public sector and abroad, decreased 1.1 percent to 2,455.9 billion yen.
Overseas demand for Japanese machinery, an indicator of future exports, dropped 7.0 percent to 858.3 billion yen.