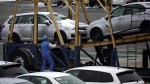 Japan machinery orders soar in March
Date: May 18, 2014
Source: CNBC
Japan's core machinery orders soared 19.1 percent on month in March, a sign that corporate Japan is turning more positive on business investment, data on Monday showed.

The rise in machinery orders, viewed as an indicator of capital spending in the months ahead, compared with a 6 percent rise forecast by economists polled by Reuters.
"This could be a sign that the stimulus-led demand so far is now turning into private demand growth for Japan and this is a very good sign," said Takuji Okubo, principal & chief economist at Japan Macro Advisors.
"Thursday's GDP (gross domestic product) data showed signs that both exports and capital expenditure are starting to grow, so today's numbers are another confirmation that Japan may be on its way to sustainable growth," he added.
Data last week showed Japan's economy grew at an annualized pace of 5.9 percent in the first quarter, posting its fastest growth in almost three years as a rise in consumer spending ahead of an April sales tax hike boosted activity.
Compared with a year earlier, core machinery orders rose 16.1 percent, above analysts' estimates for a 4.2 percent annual increase.
Companies surveyed by Japan's Cabinet Office forecast that core orders will rise 0.4 percent in April-June from the previous quarter, which would mark the fifth straight quarter of gains, Reuters reported. In January-March, core orders rose 4.2 percent, the data showed.
The Bank of Japan meets later this week and is not expected to take any policy action. Analysts say the central bank may maintain its upbeat view of the economy.