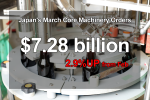 Japan's March core machinery orders up 2.9% on month
Date: May 18. 2015
Source: Kyodo News
TOKYO (Kyodo) — Japan's core private-sector machinery orders rose a seasonally adjusted 2.9 percent in March from the previous month to 869.4 billion yen ($7.28 billion), the government said Monday, reflecting an increase in corporate investment on the back of an economic recovery.
The private-sector orders in March, excluding those for ships and from utilities because of their volatility, were stronger than a seasonally adjusted and revised 1.4 percent drop in February and a 2.5 percent increase in January, the Cabinet Office said.
Core machinery orders are regarded as a leading indicator of capital spending. The figures are closely watched as Prime Minister Shinzo Abe views business investment — which accounts for around 15 percent of Japan's gross domestic product — as a pillar of economic growth necessary to beat nearly two decades of deflation.
The government maintained its basic assessment, saying the orders have "shown signs of a moderate pickup."
The orders for the January to March period increased 6.3 percent from the previous quarter, but the Cabinet Office estimated core orders would fall 7.4 percent in the three months through June.
In March, orders from the manufacturing sector edged up 0.3 percent to 363.8 billion yen, while those from nonmanufacturers grew 4.7 percent to 497.8 billion yen.
By industry, orders from the pulp and paper sector and the chemical industry were contributing to the increase, while those from the food manufacturing and electrical machinery sectors dropped following a solid rise the previous month.
Total orders, including those from the domestic public sector and abroad, increased 1.8 percent to 2,482.0 billion yen.
Overseas demand for Japanese machinery, an indicator of future exports, shrank 13.5 percent to 922.5 billion yen, after a revised 6.6 percent gain in February.