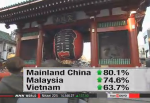 Foreign visitors to Japan mark record
Date: Apr 23, 2014
Source: NHK WORLD
Foreign tourism in Japan hit a record high in March, thanks to a weaker yen and eased visa requirements for visitors from some Southeast Asian nations.

The Japan National Tourism Organization estimates that 1.05 million people visited the country last month. That's up over 22 percent from a year before, marking a year-on-year rise for a 14th straight month.
The number of travelers from mainland China rose 80 percent, followed by Malaysia at 74 percent and Vietnam at 63 percent.
Tourism officials say they hope more people will visit Japan, as Haneda Airport recently started handling more international flights. Haneda is closer than the Narita airport to downtown Tokyo.