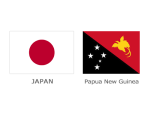 Japan's Abe Pledges 20-B.-Yen ODA for Papua New Guinea
Date: Jul 11, 2014
Source: JIJI Press
Port Moresby, Papua New Guinea, July 10 (Jiji Press)–Japanese Prime Minister Shinzo Abe said Thursday Japan will provide 20 billion yen(200-million dollars) in official development assistance to Papua New Guinea over the next three years.

Abe's ODA pledge came as he met with Papua New Guinea Prime Minister Peter O'Neill in Port Moresby. Japan is willing to help Papua New Guinea develop human resources and improve infrastructure for disaster prevention, Abe told O'Neill.
In the meeting, Abe explained about reinterpretation of the Japanese constitution his government has made to allow Japan to exercise the right to collective self-defense. O'Neill supported the move.
Abe sought Papua New Guinea's cooperation for recovering the remains of Japanese nationals, chiefly soldiers, who died in the Oceanian country during World War II. O'Neill assured continued cooperation.
---
Japan International Cooperation Agency(JICA)'s Cooperation in Pacific Region