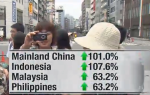 Japan receives record foreign visitors in July
Date: Aug 20, 2014
Source: NHK World
Japanese government officials say nearly 1.27 million foreign tourists visited Japan in July. The figure marked a record for a one-month period, topping the 1.23 million set this April.
The Japan National Tourism Organization says an estimated 1,269,700 foreigners visited Japan last month. This is up 26.6 percent from the same month last year.
By country, the number of visitors from mainland China and Indonesia more than doubled year-on-year. Travelers from Malaysia and the Philippines were up 63 percent for each country.
The number of visitors to Japan surpassed the 10 million mark for the first time last year, thanks to a weaker yen and eased visa requirements for travelers from Southeast Asian countries.
More foreign visitors are coming to Japan this year chiefly due to the increase in the number of arrivals and departures of international flights at Tokyo's Haneda Airport. Cruise ships are also making more port calls.
Officials say more than 7.5 million foreign tourists visited Japan between January and July.