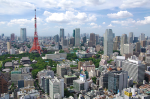 Nikkei hits another 21-year closing high
Date: Oct 12, 2017
Source: Jiji Press
TOKYO (Jiji Press) — The benchmark Nikkei average rose further and marked a fresh 21-year closing high on the Tokyo Stock Exchange on Thursday, boosted by Wall Street's overnight advance.
The 225-issue Nikkei Stock Average gained 73.45 points, or 0.35 percent, to end at 20,954.72, the best finish since Nov. 29, 1996. The key market gauge extended its winning streak to an eighth session after climbing 57.76 points on Wednesday.
The TOPIX index of all First Section issues closed up 3.32 points, or 0.20 percent, at 1,700.13, ending above the 1,700 line for the first time since July 31, 2007, after gaining 1.67 points the previous day.
Tokyo stocks attracted purchases after all three major U.S. stock indexes — the Dow Jones industrial average, the S&P 500 index and the tech-heavy Nasdaq composite index — hit record closing highs on Wednesday.
Investors also took heart from newspaper polls suggesting that the ruling Liberal Democratic Party is likely to win a majority of 233 seats in the House of Representatives in the Oct. 22 general election, brokers said.
The market was buoyed by expectations that the Abenomics economic policy mix of Prime Minister Shinzo Abe, also leader of the LDP, will be promoted further, brokers said.
Market players "don't want Abenomics to end," Hideyuki Suzuki, head of the investment market research department at SBI Securities Co., said.
The policy package includes the Bank of Japan's massive monetary easing, which has led to the yen's fall against the dollar and higher stock prices. On Wednesday, the Nikkei rewrote the highest closing level since Abe returned to office in December 2012 and introduced Abenomics.
Investors "don't like political confusion and hope for a stable LDP administration," Suzuki stressed.
Mitsuo Shimizu, equity strategist at Japan Asia Securities Co., said that the market "came under some profit-taking pressure as the Nikkei approached 21,000."
"The Nikkei could well retake 21,000 ahead of the election as stock prices tended to rise before the past [general] elections," Shimizu also said.
Rising issues outnumbered falling ones 1,130 to 804 in the First Section, while 96 issues were unchanged