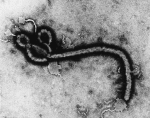 Japan to help combat infectious diseases overseas
Date: Mar 19, 2015
Source: NHK World
Japan's government will form a working team to study ways to help stop the spread of infectious diseases overseas.
The United Nations and other global bodies say Ebola infections spread because medical systems were insufficient in the West African nations where the outbreak originated. They say the countries could not deal properly with the disease in its initial stage.
The Japanese government believes containing disease requires international cooperation at an early stage in countries where outbreaks happen. The government will set up soon a working group of officials from the health, foreign, defense and other ministries. An advisor to the prime minister will head the team.
The officials will discuss how to strengthen Japan's international emergency assistance units. They will also talk about how to support the healthcare systems of nations where infectious illnesses could emerge.
The team will also coordinate among ministries and agencies to steadily upgrade domestic research institutes and train personnel.