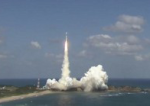 Himawari 8 successfully launched
Date: Oct 6, 2014
Source: NHK World
Japan successfully launched its next-generation weather satellite atop an H2A carrier rocket and sent it into initial orbit as scheduled on Tuesday.
The rocket lifted off at 2:16 PM with a roar from the launch pad at the Tanegashima Space Center in southern Japan.
28 minutes later, the rocket sent the Himawari 8 satellite into an initial orbit some 260 kilometers above the Earth. Himawari means sunflower in the Japanese language.
Himawari 8 will be placed in a geostationary orbit about 36,000 kilometers above the Earth and starts operation around next summer.
The Himawari 8 is equipped with much better observation and data processing capabilities, compared to Japan's current weather satellites.
The new satellite's imager can see in greater detail than its predecessors and relay color images instead of the previous black-and-white.
Readings will be taken every 10 minutes, compared to the current 30-minute updates.
Pictures of typhoons and other weather events around Japan's archipelago can be taken at even faster refresh rates of every 2.5 minutes. This will enable more precise monitoring of tropical cyclones and clouds that bring heavy local rain.
This was the 19th consecutive successful launch of an H2A rocket, and brings the success rate up to 96 percent.
---
Mitsubishi Electric Ready to Deliver Himawari-8 to Tanegashima
Observation sensors enable more precise climate forecasting, larger-scale natural-disaster prevention
Source: Mitsubishi Electric Corporation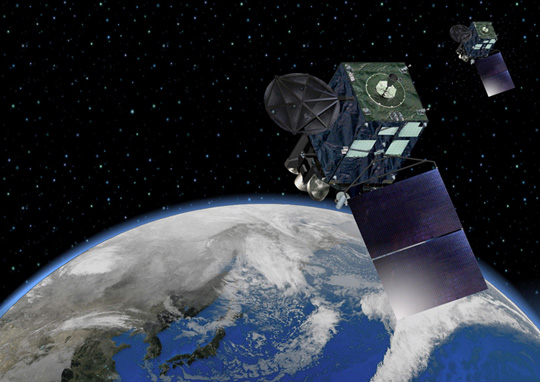 Rendering of Himawari-8 in Orbit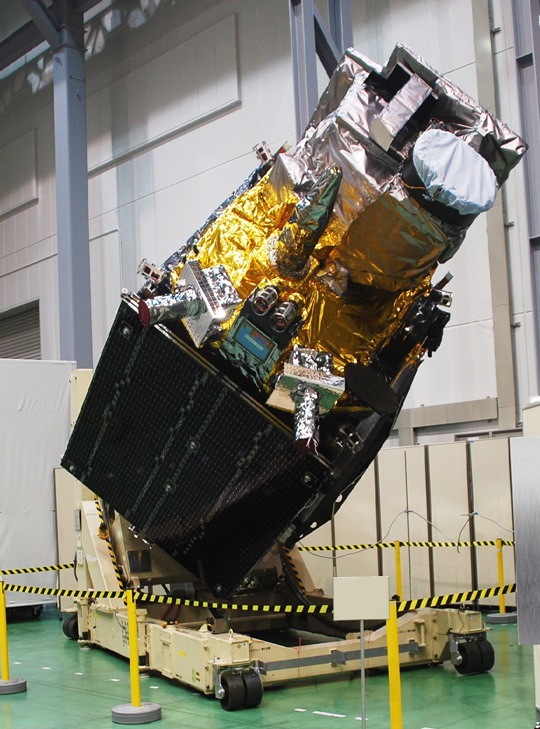 Himawari-8 at Kamakura Works
Himawari-8, the successor to the Multi-functional Transport Satellite-2 (MTSAT-2) satellite, is equipped with a new payload for a highly upgraded meteorological observation mission. Unlike MTSAT-2, color images will be generated and spatial resolution will be twice as detailed. Observational data collected with Himawari-8 will enhance climate forecasting, weather-prediction numerical accuracy and environmental monitoring of weather such as typhoons, torrential rain and climate changes. Data will be provided to more than 30 countries in the Asia and Pacific region to support advanced meteorological services, particularly improved natural-disaster prevention and transportation safety.
Himawari-8 is the eighth satellite to incorporate Mitsubishi Electric's original DS2000 satellite platform. Its sister, Himawari-9, is currently being built at the company's Kamakura Works. When Himawari-9 is launched in 2016, it will mark over 20 years of Mitsubishi Electric's involvement with geostationary meteorological satellites, beginning with MTSAT-2. By 2017, Mitsubishi Electric expects to have produced 15 DS2000 satellites. To date, all DS2000 satellites launched have operated successfully. Building on this superb track record, Mitsubishi Electric will continue to serve the global commercial satellite market with its ever-increasing family of reliable DS2000 satellites.
Himawari-8 Overview
| | |
| --- | --- |
| Length | Approx. 8m |
| Satellite Platform | DS2000 |
| Orbital Maneuver Life | 15+ years |
| Meteorological Mission | 8+ years |
| Mass | Approx. 3.5 tons (at launch) |
Himawari-8
MTSAT-2
Spatial Resolution
VIS 0.5-1km
NIR 1-2km
IR 2km
VIS 1km
NIR –
IR 4km
Observation Interval
Full Disk
10 minutes
30 minutes
Japan
2.5 minutes
–
Land-mark
2.5 minutes
–
Spectral Bands
VIS
3 bands
1 bands
NIR
3 bands
–
IR
10 bands
4 bands