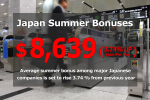 Summer Bonuses at Major Japanese Firms Average 927,000 Yen
Date: 06/07/2016
Source: Jiji Press
Tokyo, June 7 (Jiji Press)–The average summer bonus among major Japanese companies is set to rise 3.74 pct from the previous year to 927,415 yen, up for the fourth straight year, a preliminary report by the Japan Business Federation, or Keidanren, showed on Tuesday.
The growth reflects a rise in the number of companies that link employee bonuses to corporate earnings, according to the survey.
In this spring's "shunto" nationwide pay negotiations, companies were inclined to increase bonuses, rather than pay scales, due to the uncertain economic outlook.
The first report on summer bonuses for this year covered 95 of the 245 companies with at least 500 workers and listed on the Tokyo Stock Exchange's first section. Keidanren will release the final result in late July.
The summer 2016 average is the third highest for any first-of-the-year reading on record, next to the summer 2008 level of 930,329 yen, which was announced before the collapse of U.S. investment bank Lehman Brothers in September that year, which triggered a global financial crisis.
Of the 14 industry sectors, the average for automakers is the highest, rising 3.45 pct to 1,065,091 yen, topping one million yen for the third consecutive year.
The average for nonmanufacturers jumped 15.77 pct, reflecting bonus hikes at power companies.
Meanwhile, the average bonus fell in six sectors including steelmakers, nonferrous metals producers and shipbuilders, due to sluggish commodities prices.