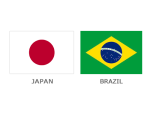 Japan to provide broad support to Brazil's agricultural industry
Date: Jul 12, 2014
Source: Kyodo News
TOKYO (Kyodo) — Japanese government plans to provide broad support to Brazil's agricultural industry will be a focus when Prime Minister Shinzo Abe meets with Brazilian President Dilma Rousseff during an upcoming trip to five Latin American nations, sources close to the matter said Saturday.
During the trip from July 25 to Aug. 4, the Japanese prime minister will also visit Mexico and Chile.
In Brazil, Abe is set to offer to the major food exporter help in improving infrastructure, including transportation networks for agricultural products and ports, so the country can increase its food exports.
To meet growing global demand for corn and soybeans, Brazil has been expanding output of both crops, but slow expansion of infrastructure to transport and ship the increased produce has become an impediment to boosting exports.
Tokyo also views it as necessary to facilitate the growth of the country's agricultural industry to insure a stable global food supply, the sources said. Japan imports corn and soybeans from Brazil, its second-largest supplier of both items.
The Japanese government plan involves enabling Japanese companies to participate in infrastructure-building projects in Brazil more easily.
For example, state-backed Nippon Export and Investment Insurance will provide insurance to Japanese banks providing loans for agricultural infrastructure-related projects in Brazil, the sources said.
And the government-backed Japan Bank for International Cooperation will provide loans to Japanese companies engaged in agriculture infrastructure development work there, they added.
Tokyo also plans to form a consultative body joined by both countries' private and public sectors to pursue improvement in export-spurring shipment and transportation systems in Brazil, the sources said.
The two countries cooperated in a large-scale project from 1979 to 2001 to create farm lands in central Brazil, with Japan providing 27.9 billion yen through official development assistance out of the total cost of 68.4 billion yen.
That project helped expand Brazilian soybean production significantly.