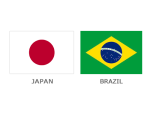 Japan to support Brazilian offshore drilling, infrastructure
Date: Aug 1, 2014
Source: NIKKEI – by OKI NAGAI
BRASILIA, Brazil — Japanese Prime Minister Shinzo Abe and Brazilian President Dilma Rousseff agreed Friday to pursue cooperation in areas including offshore oil drilling and grain transportation.
Speaking to reporters after their summit here, Abe called Brazil a "key nation" in his "panoramic" approach to diplomacy. Rousseff said their countries will forge an even stronger relationship.
The leaders agreed that Japan will provide Brazil with shipbuilding technology for developing underwater resources. The South American nation needs many deep-sea drilling vessels and transport ships for its efforts to tap into offshore oil fields. Japan hopes that this technical cooperation will lead to shipbuilding orders.
Abe made a personal appeal for proposals by Mitsubishi Heavy Industries and other Japanese companies to use huge floating platforms as staging areas for offshore development.
The prime minister also pledged support for Brazil's farming infrastructure. The two countries will create an intergovernmental council to promote road and rail links between the grain belt and the ports that serve as gateways to the global market.