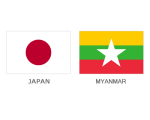 Japan to extend 10.5 billion yen in loans to Myanmar
Date: Aug 9, 2014
Source: Kyodo
NAYPYITAW (Kyodo) — Japan said Saturday it will extend a total of 10.5 billion yen in loans to Myanmar to help the Southeast Asian country improve its communications network linking major cities to meet growing demand for mobile phones and the Internet.
Foreign Minister Fumio Kishida offered the low-interest loans during his talks with Myanmar Foreign Minister Wunna Maung Lwin on the sidelines of Association of Southeast Asian Nations-related meetings in Naypyitaw. Wunna Maung Lwin expressed appreciation for the offer, a Japanese official said.
With the loans, Myanmar aims to strengthen its communications network involving Yangon, Mandalay and Naypyitaw, as well as to improve access to the Internet in Yangon, the country's largest city, according to the Japanese Foreign Ministry.
Wunna Maung Lwin told Kishida that Myanmar has decided to issue one-year, multiple-entry visas for Japanese business people as part of relaxation measures sought by Japan, the official said.
On regional issues, Wunna Maung Lwin was quoted as saying Myanmar will steadily work to promote regional security as this year's chair of ASEAN through such measures as ensuring the rule of law, strengthening the East Asia Summit process and curbing North Korea's missile and nuclear threats.
ASEAN groups Brunei, Cambodia, Indonesia, Laos, Malaysia, Myanmar, the Philippines, Singapore, Thailand and Vietnam.