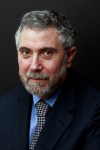 Japan the Model
Date: May 23, 2013
Source: The New York Times, By PAUL KRUGMAN
A generation ago, Japan was widely admired — and feared — as an economic paragon. Business best sellers put samurai warriors on their covers, promising to teach you the secrets of Japanese management; thrillers by the likes of Michael Crichton portrayed Japanese corporations as unstoppable juggernauts rapidly consolidating their domination of world markets.

Then Japan fell into a seemingly endless slump, and most of the world lost interest. The main exceptions were a relative handful of economists, a group that happened to include Ben Bernanke, now the chairman of the Federal Reserve, and yours truly. These Japan-obsessed economists viewed the island nation's economic troubles, not as a demonstration of Japanese incompetence, but as an omen for all of us. If one big, wealthy, politically stable country could stumble so badly, they wondered, couldn't much the same thing happen to other such countries?
Sure enough, it both could and did. These days we are, in economic terms, all Japanese — which is why the ongoing economic experiment in the country that started it all is so important, not just for Japan, but for the world.
In a sense, the really remarkable thing about "Abenomics" — the sharp turn toward monetary and fiscal stimulus adopted by the government of Prime Minster Shinzo Abe — is that nobody else in the advanced world is trying anything similar. In fact, the Western world seems overtaken by economic defeatism.
In America, for example, there are still more than four times as many long-term unemployed workers as there were before the economic crisis, but Republicans only seem to want to talk about fake scandals. And, to be fair, it has also been a long time since President Obama said anything forceful publicly about job creation.
Still, at least we're growing. Europe's economy is back in recession, and it has actually grown a bit less over the past six years than it did between 1929 and 1935; meanwhile, it keeps hitting new highs for unemployment. Yet there is no hint of a major change in policy. At best, we may be looking at a slight relaxation of the savage austerity programs Brussels and Berlin are imposing on debtor nations.