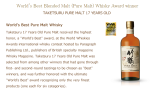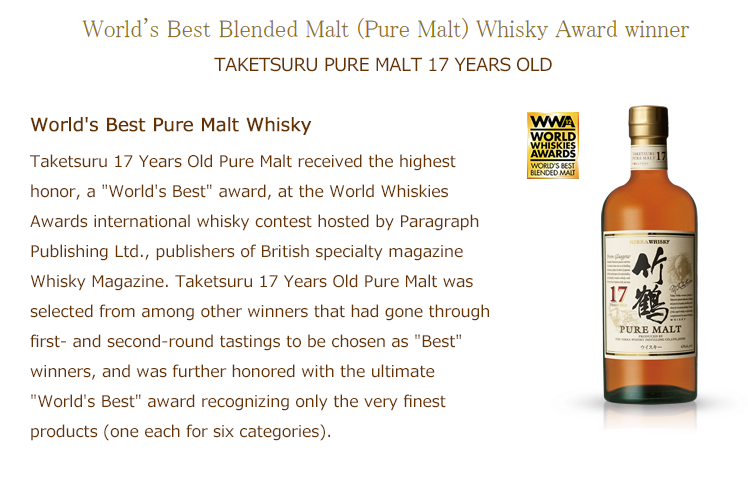 Japanese whisky wins top prize for 2nd year
Date: Mar 20, 2015
Source: NHK World
A Japanese whisky has won the world's top prize in a prestigious contest in Britain for the second straight year. The organizers of the World Whiskies Awards chose the "Taketsuru 17 Years Old" malt of Japan's Nikka brand as the best blended malt whisky for 2015.
Nikka's chief blend specialist, Tadashi Sakuma, received the prize at a ceremony in London on Thursday. The whisky was named after Masataka Taketsuru, whose life forms the basis of a TV drama series currently being shown on NHK.
Taketsuru dedicated his life to the domestic production of whisky with the help of his Scottish wife.
Japanese whiskies have topped different categories for 9 years in a row. Neil Ridley, the chairman of the organizer, praised Japanese craftsmanship, and said Scotland and Japan are good rivals.
---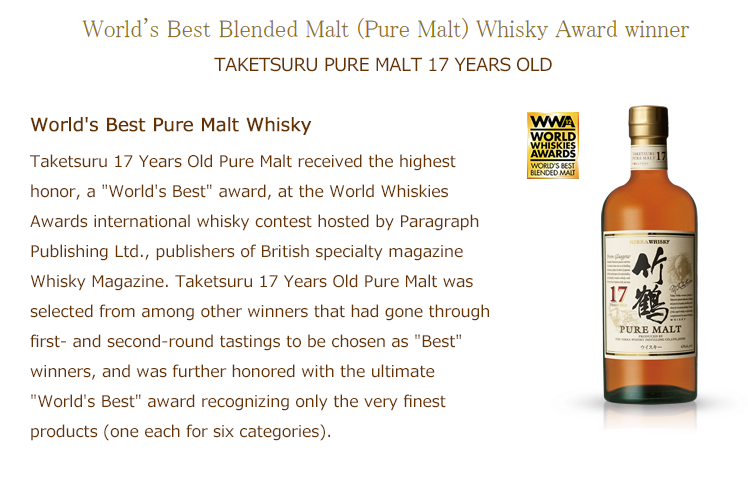 Full list of winners
World's best blended malt: Nikka Taketsuru Pure Malt 17 Year Old (Japan)
World's best single malt: Kavalan Solist Vinho Barrique (Taiwan)
World's best grain whisky: Darkness! North British 18 Year Old Oloroso Cask Finish (Scotland)
World's best pot still whisky: Redbreast Pot Still 15 Year Old (Ireland)
World's best flavoured whisky: Master of Malt 40 Year Old Speyside Whisky Liqueur (Scotland)
World's best American whiskey: Thomas H Handy Sazerac Straight Rye (USA)
World's best blend: That Boutique-y Whisky Company Blended Whisky #1 (Scotland)
Best Japanese blended whisky: Suntory Hibiki 12 Year Old
Best Japanese single malt: Suntory Yamazaki 18 Year Old
Best scotch blended malt: Wemyss Malts Velvet Fig (Scotland)
Best African blended whisky: Three Ships Bourbon Cask Finish (South Africa)
Best European blended whisky: Black Mountain Whisky Selection BM No1 (France)
Best Irish blended whiskey: Tullamore Dew Phoenix
Best African single malt: Three Ships Single Malt 10 Year Old (South Africa)
Best American single malt: Balcones Texas Single Malt
Best Irish single malt: Teeling Single Malt
Best Australian single malt: Sullivan's Cove French Oak Cask Matured
Best European single malt: Mackmyra Iskristall (Sweden)
Best Lowland single malt: Highland Harvest Single Malt Sauternes Wood
Best Highland single malt: Glenmorangie Extremely Rare 18 Year Old
Best Campbelltown single malt: Longrow 11 Year Old
Best Speyside single malt: Benriach 16 Year Old
Best Islands single malt: Ledaig 10 Year Old
Best Islay single malt: Ardbeg Kildalton