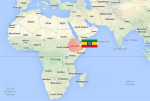 Japanese business delegation visits Ethiopia
Date: Aug 29, 2014
Source: NHK World
A group of Japanese business people and government officials has visited Ethiopia to explore opportunities in the East African country. The delegation of about 50 people includes representatives of trading companies and manufacturers.
Ethiopia is attracting a growing number of foreign businesses, including those from the United States, Europe and China. It's one of the countries gaining the most attention in Africa, a continent that's often described as the global economy's last frontier.
Ethiopia has a population of about 90 million. Its average economic growth rate has been close to 10 percent in the last 5 years. The Japanese delegation visited a Turkish-owned apparel factory on the outskirts of the capital, Addis Ababa. They were impressed by the high education level of the mostly young workers.
The group also visited an industrial complex being built by the Ethiopian government, and was briefed on tax breaks for foreign companies. The delegation also met Ethiopian Prime Minister Hailemariam Desalegn, who expressed high hopes for investment from Japan.
A Japanese trading company executive said Ethiopia takes stable economic policies and his company wants to contribute to Ethiopia's development. Japan has been working to strengthen ties with Ethiopia since Prime Minister Shinzo Abe visited the country in January.