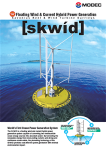 Floating wind and current hybrid power generation system
Date: 1 Jul 2013
Source: IDTechEx
Japanese company Mitsui Ocean Development & Engineering Company (MODEC), has developed the SKWID, a floating wind and current hybrid power generation system capable of converting two inexhaustible ocean energy sources into abundant power. By harvesting the renewable energy from never-ending currents and strong and continuous ocean winds, the technology of the SKWID provides cost-effective power generation with minimal environmental impact.
The Darrieus wind turbine efficiently harnesses the ocean wind.
The omnidirectional Darrieus turbine rotates regardless of the wind direction. Due to the location of the generator, the system has excellent stability with a low center of gravity, as well as maintainability with easy access. The Darrieus' rectangular swept area catches twice as much wind when compared to the circular swept area of typical onshore wind turbines of the same diameter and is therefore capable of delivering twice as much power from a single installation – far more power from the same wind farm area.
The Savonius current turbine harnesses the current.
The split-cylinder-shaped buckets of the Savonius current turbine can harness any weak current and will rotate in one direction regardless of current direction. This turbine is insensitive to marine growth on the buckets and is harmless to the marine ecosystem, as it rotates slowly at the speed of the current.
Stable performance in an unstable sea.
The float structure supports the power generation assembly via a set of rubber mounts like a gimbal to isolate the power generation assembly from the wave motion.
The floating current power generation part is developed under a joint development agreement with NEDO (New Energy and Industrial Technology Development Organization). The SKWID is ideally suited for "stranded" islands to "isolated" islands as an emergency power source as well as other broad applications.
For more details about SKWID, click here.