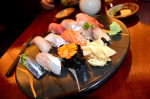 Results of JETRO's Survey on Japanese Foods Directed at Overseas Consumers – Japanese dishes rank top as most popular foreign cuisine in six-city survey of emerging markets
Date: Mar 28, 2014
Source: JETRO
The Japan External Trade Organization (JETRO) conducted a survey on Japanese foods among overseas consumers. The results of the survey are as follows. Regarding this subject matter, this is the first survey to target consumers in emerging markets.

Outline
Objective:


To explore habits of food consumers overseas, hear opinions about Japanese cuisine and food products directly from those consumers and take advantage of demand. Also to help expand exports of Japanese food products with the results of the survey.

Investigation period:


December 4 to 18, 2013

Survey method:


Web-based questionnaire

Subject cities:


Moscow (Russia), Ho Chi Minh (Vietnam), Jakarta (Indonesia), Bangkok (Thailand), Sao Paul (Brazil), Dubai (United Arab Emirates)
* Based on the emerging markets listed in the Japan's Export Strategy for Agricultural, Forestry, Fishery and Food Products by Country/Item created by Ministry of Agriculture, Forestry and Fisheries, six subject cities from those emerging markets were chosen as their countries are large importers of food from Japan in value terms.

Respondents to the survey:


Male and female consumers residing in the subject cities in their teens to fifties (not including Japanese residents).

Sample number:


Total of 3,00o subjects consisting of 500 from each city

Notes:


The previous year's survey was conducted among countries centering on high rank destinations for Japan's exports of agricultural, forestry, fishery and food products. (Seven countries and regions such as China, Hong Kong (China), Chinese Taipei, South Korea, the US, France and Italy)
---
Summary points
Japanese ranks top as favorite foreign cuisine


Regarding favorite foreign cuisines, Japanese was chosen as top by 38.4% of the total respondents among the six cities, followed by Italian with 15.6% and Chinese with 14.0%.
By city, Japanese dishes ranked top in four out of six cities, excluding Sao Paul and Dubai. (Sao Paul: second place, Dubai: fourth place) Regarding each percentage of respondents of the four cities who selected Japanese food as their favorite foreign cuisine, Bangkok marked 66.6%, followed by Jakarta with 50.4%, Ho Chi Minh with 37.8% and Moscow with 35.4%. The popularity of Japanese food was particularly clear in both Bangkok and Jakarta.

【Figure 1】 Favorite foreign cuisines among total respondents of the subject six cities

*Cuisine of each respondent's residential country was excludes from choices.

"Healthiness" gets high marks in evaluating Japanese cuisine


Japanese cuisine attracts attention with healthy image
The top reason for preferring each foreign cuisine was its taste. For Japanese cuisine, "healthiness" was also highly appreciated by all six cities. In Brazil, where the percentage of respondents citing "healthiness" was especially high, those suffering from diabetes and obesity have been on the increase and one of every two people there is likely to be obese. Japanese cuisine, therefore, has drawn even great attention with its healthy image.

Reasons other than taste differs by each country 【Fig. 2】
"Good taste" was esteemed in each country when choosing a favorite foreign dish, not only Japanese food. Aside from that, however, the other cited reasons varied depending on the region.

Sao Paulo, Dubai pick "familiar"
Regarding the reasons for preferring Italian and Japanese cuisines, many respondents in Sao Paulo indicated that those dishes are "familiar". This is because Japanese and Italian restaurants have been familiar for them thanks to a long history of immigrants from those countries living there. In Dubai, as many consumers spend their holidays at indoor commercial complexes such as shopping malls, they tend to regard cuisines which are often seen at those food courts as "familiar".

Bangkok, Ho Chi Minh pick "sophistication/high-end image"
In Bangkok, the percentage of respondents selecting Japanese food as their favorite foreign cuisine was higher than all other cities with 66.6%. The response rate of "sophistication/high-end image" was also high. As Japanese food products are considered expensive and high-quality in terms of color, shape, taste, safety and packaging, the consumers appear to have the same image regarding Japanese dishes as well. In Ho Chi Minh City, foreign cuisine restaurants, including Japanese restaurants, are generally involved and managed by people native to those countries, not by Vietnamese. Also, the number of foreign cuisine restaurants is small, and Japanese cuisine has a high-end image targeted at local overseas residents or the wealthy.

【Fig.2】 Reasons for choosing a favorite foreign cuisine


Japanese cuisine has mostly positive image but recognized as expensive 【Fig. 3】


Asked about impressions of Japanese cuisine, the results showed many positive answers. 26.6% of respondents stated it "tastes good", 21.3% said it is "healthy", and 9.1% said it is "chic", while 18.1% evaluated it is "expensive". It became clear that Japanese cuisine is recognized as expensive in these countries.

Largest number of respondents citing "expensive": Dubai (25.2%)
One factor seems to be that in Dubai, low-price Japanese cuisine is not as familiar as with other countries because of the small number of fast-food Japanese restaurants in the city and that Japanese restaurants mean high-end restaurants in general.

【Fig. 3】 Primary impression of Japanese food among total respondents of the six cities


Popular items following "sushi/sashimi" reflect each country's tastes 【Fig. 4】


In all subject cities "sushi/sashimi" was the most common answer for favorite Japanese food. The results showed its overwhelming popularity especially in Moscow, where it came in with 49.8%, and in Sao Paulo, with 46.2%. The results apparently reflected a spread of localized casual restaurants serving food centering on sushi.
In addition to "sushi/sashimi", "tempura" and "yakitori" are also popular as Japanese food items. However, other than those dishes, the results reflected each country's individual taste. Distinct characteristics were seen in the following three countries.

"Shabu-shabu" and "sukiyaki" popular in Thailand
As there is a Thai-style hot-pot cuisine called "taisuki", people in Thailand seem to have an affinity for Japan's shabu-shabu and sukiyaki. Casual buffet-style restaurants serving sets of shabu-shabu and sushi or sukiyaki and sushi are popular.

"Ramen" popular in Indonesia
There has been a ramen boom for several years in Jakarta. The noodle culture is deeply rooted in Indonesia where it is said to be brought by Chinese. The country is the second largest noodle consumer in the world following China. In addition to these foundations, the taste and flavor of Japanese ramen, which did not previously have a presence, are widely accepted on the back of Indonesians' preferences for oily and rich tastes.

"Curry and rice" popular in Dubai
Among the population in the UAE 88.4% are of foreign nationalities (Source: 2012 Euromonitor International). Among them the share of residents from India is particularly large (42.8% of respondents are of Indian nationality). It is therefore necessary to consider the preferences of not only Arabs but also other peoples such as Indians in exploring the Dubai market. Among respondents who chose "curry and rice", 71.7% were Indian citizens. Although Indians generally consider Japanese curry and rice as different from Indian curry, they appear to have an affinity for its appearance and spicy taste. Regarding Indians, it is said that they tend to be conservative toward food and while they do not easily detect subtle flavors, spice is essential as they seek out flavorful food among spicy dishes. It is necessary to take the above into account when observing the Dubai market.

【Fig. 4】 Popular items of Japanese food menu


Sales promotion of Japanese food to middle class consumers is key


"Expensive" and "limited sales location" top as problems at the time of food purchase and reasons not to buy Japanese food products
As for the selection of Japanese food products, while it is well-supported at high-end supermarkets it is less common at supermarkets targeted at middle and low income consumers. For example, in Thailand local department stores and high-end supermarkets, such as Siam Paragon and the Emporium, have the second largest proportion of Japanese food products, following Japanese specialty department stores and supermarkets. Meanwhile, it is lower at hypermarkets such as Big C, Tesco and Lotus. In the future, the key will be how to acquire price competitiveness and maintaining sales promotion of Japanese food products to the middle class.

Answer of "conflict with religion" currently limited: Jakarta, Dubai
The two counties have many Muslims (among this survey's subjects, Jakarta: 81.4%, Dubai: 35%). Regarding reasons not to buy Japanese food products, 12.8% of respondents in Jakarta as well as 8.6% of respondents in Dubai stated there was a "conflict with religion". Also, asked about what points are most emphasized when purchasing food products, 10.4% of respondents in Jakarta and 8.8% in Dubai answered "whether or not it fits into religious ethics". Although those current responses are limited, offering Japanese food products and ingredients consistent with religious ethics would be one of the keys to spreading Japanese food more widely.

Evaluation of Japanese food products differs by item


Recognition, purchase experiences and other questions were asked regarding each of the following categories: marine products, seasoning products, Japanese sake, fruit and vegetables, beef and Japanese tea.
---
For more information, please contact:
Contact Person: Ms. Ayaka Sugiyama, Ms. Sayaka Kagose
Agriculture, Forestry, Fisheries and Food Research Division
Tel: 03-3582-5186 E-mail: AFC@jetro.go.jp